"No principal wants to say to a parent, your child has been abducted, or your child has been killed. I'm sorry to be crass, but this is a paedophile's dream," she said.
The school already has had to contend with intruders breaking into bathrooms and leaving rubbish, drug paraphernalia and dog faeces on school grounds, it said in a submission to the council.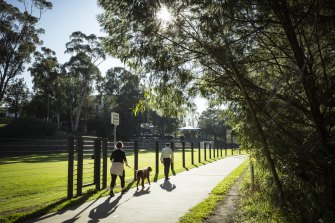 Jeremy Lawrence, president of community group Streets Alive Yarra, said there was a principle at stake: a private entity such as a non-government school should not be permitted to take public land for its own exclusive use.
"There is a public street and they put a gate in front of it; in other words, they are appropriating public land," Lawrence said.
The school was last month given a deadline of May 16 to remove its gates, but it has challenged the directive, leading the council to set a second deadline of Tuesday or else it will remove the gates and "seek to recover its costs".
"The gates at Alphington Grammar School were installed illegally and currently block community access to public land," Yarra Mayor Sophie Wade said on Monday.
"Council has run an extensive consultation process, and has received overwhelming community support for public pedestrian access to be restored."
Nikou, who said she had been losing sleep over the issue, has urged parents to rally against "a group of vocal local residents who wish to have public access to Darebin Creek via Old Heidelberg Road.
"I trust that families are equally as disappointed and outraged by the lack of transparency displayed in the said consultation process and will use their voice accordingly to raise the matter with local members and the like," she emailed parents on Friday.
loading
"This is a matter the school cannot address alone. It needs the voice of our school community."
The council received more than 300 submissions for opening the road, and 14 against.
Lawrence said access to public open space was also increasingly important as Melbourne's population grew.
The school has submitted to the council a list of serious concerns it holds, saying reinstating public access to Old Heidelberg Road is inconsistent with mandatory child safe standards.
"It is incredibly traumatic for young children to be confronted by strangers when they should feel safe within their own schoolgrounds, and this has occurred several times within recent years," it said.
"Teachers on yard duty and overseeing outdoor sporting activities regularly need to discourage clearly undesirable persons who are loitering for the purposes of wanting to photograph students … I trust the seriousness of the dangers we face daily will be heeded before a tragic and foreseeable incident involving one of our children occurs."
The Morning Edition newsletter is our guide to the day's most important and interesting stories, analysis and insights. Sign up here.