'He was angry and kind of erratic and had a lot of mood swings,' ex-fiancée says. 'I think he had a lot of trouble coping with not being an active duty police officer anymore'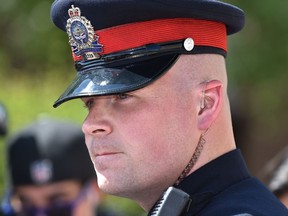 Article content
STONY PLAIN – The ex-fiancée of an Edmonton police officer accused of assault says he choked her and threw her on the bed during an argument.
Article content
Edmonton Police Service Const. Hunter Robinz began a trial in Stony Plain provincial court Thursday on charges of assault and careless storage of a police-issue carbine.
The charges relate to a March 12, 2021, incident at the Stony Plain home Robinz shared with MM, the woman to whom he was engaged. Postmedia is identifying the woman by her initials.
MM told court Thursday that Robinz put his hands around her neck after going through her phone and accusing her of cheating.
"He started shouting at me," MM told provincial court Judge Peter Ayotte. "I was sitting on the bed. He moved forward and grabbed me by the throat… I yelled at him to stop. He kept yelling at me, and eventually he left the room."
MM said she did not suffer any injuries or bruising during the alleged assault.
Article content
The defense claims MM started the argument and grabbed Robinz first.
MM went to RCMP in Parkland County the day after the incident. Robinz was charged with assault, unsafe storage of a firearm, possession of a firearm knowing its possession is unauthorized, and possession of a prohibited device. Only the first two charges proceeded to trial.
Robinz was a six-year EPS member at the time of his arrest. In a statement after he was charged, Edmonton police said Robinz was in a "non-operational" role at the time of the incident. He has since been removed from duty without pay.
'I didn't want him to get in trouble'
Robinz and MM had been in a relationship for about 18 months. At the time, he was under internal investigation in an unrelated case and had been ordered to empty his locker and surrender his pistol.
Article content
Court heard that after being relieved from active duty, Robinz brought home a police C8 carbine, which he stored in a bedroom closet. An RCMP officer who seized the weapon said it was stored with the safety off.
"I didn't understand why it was there," MM said.
MM testified she and Robinz had a few drinks after finishing work on March 12, 2021. At around 9 pm, after MM had gone to bed, Robinz entered the bedroom and allegedly yelled profanities at her and grabbed her neck.
The next day, after Robinz had gone to work, MM's friend visited the home and urged her to file a police report. MM said she had an alcoholic drink before calling the Parkland RCMP detachment "just to calm my nerves."
"I told them that my fiancé had choked me, and I didn't know what to do next," MM told court. "I didn't know if I was supposed to come in or what I was supposed to do. I remember telling them I didn't want him to get in trouble."
Article content
MM later went to the police station to give a statement, saying she was "scared, overwhelmed and upset." RCMP Const. Joanie Turcot said MM appeared to be intoxicated, but the officer had no worries about MM's ability to give a statement.
During cross examination, defense lawyer Ajay Juneja suggested what "actually happened" was MM "attacked" Robinz while intoxicated, and that Robinz used force to make her stop.
Juneja said MM's statements to police did not line up with her testimony in court, including about how many times she texted Robinz the day after the incident, whether she and Robinz had been drinking and how much, and her amount of experience with firearms.
At one point, when asked about her statement to Parkland RCMP, Juneja asked MM if she was "incredibly stressed, or incredibly drunk?"
Article content
She also gave conflicting answers to police, Juneja claimed, about whether Robinz was suffering from PTSD.
"I believe he had PTSD but he never told me that he did," MM told Crown prosecutor Photini Papadatou on redirect. "He was angry and kind of erratic and had a lot of mood swings. I think he had a lot of trouble coping with not being an active duty police officer anymore."
Robinz's trial is scheduled to last two days. He faces a separate set of charges — including sexual assault, breach of trust and unauthorized access to a computer network — which are scheduled for a preliminary inquiry June 20-24.
jwakefield@postmedia.com