FIFA is set to announce the 16 host cities at a live event in New York later this afternoon.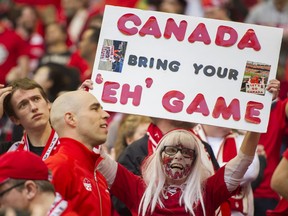 Article content
Is Vancouver going to be a host city in one of the world's biggest sports events? We'll find out today.
Article content
According to well-sourced reports, Vancouver and Toronto will make the coveted cut. Both were included, along with Edmonton, in the long list of 22 cities in Canada, the US and Mexico that remain under consideration.
What remains to be seen is how many matches Vancouver gets, and which teams will be playing at the 54,000-seat BC Place in the expanded 48-team tournament.
The US was expected to get 10 host cities, with three each going to Canada and Mexico. But recent reports indicate Edmonton might not make the cut.
Article content
Los Angeles, with its glitzy new $5.5 billion SoFi Stadium is widely considered an obvious candidate, as is global hub New York, whose joint bid with New Jersey is anchored on the 82,500-capacity MetLife Stadium.
Other cities in contention in the US include: Atlanta, Boston, Cincinnati, Dallas, Denver, Houston, Kansas City, Los Angeles, Miami, Nashville, New York/New Jersey, Orlando, Philadelphia, San Francisco, Seattle, and Washington DC/ Baltimore.
In Mexico, the three cities in the running — Mexico City, Guadalajara and Monterrey — are widely considered to be locks.
Vancouver was a late addition to the list of candidate cities after BC Premier John Horgan nixed a FIFA run for BC in 2018, saying FIFA is demanding the province "write a blank cheque."