While her case was pending in Texas, Norma McCorvey gave birth to a daughter, whom she gave up for adoption.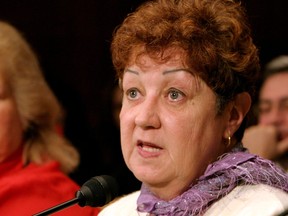 Article content
On May 22, 1970, lawyers for a pregnant woman identified only as "Jane Roe" filed a lawsuit in federal court in Dallas challenging a Texas law prohibiting abortions except to save a mother's life. The case went on to make history.
Article content
On Jan. 22, 1973, the US Supreme Court in a 7-2 decision ruled that women have a constitutional right to abortion. The ruling landmark still stands – but perhaps not for long. A firestorm has erupted over a draft decision by the current Supreme Court leaked to Politico that would overturn Roe v. Wade and allow states to ban abortions. The draft decision isn't final, but both the potential ruling and the leaking of the document are stirring new controversy.
The furor also raises questions about the history of the case, such as:
Q: Who was Jane Roe?
A: "Jane Roe" was a pseudonym for Norma McCorvey, who as a 22-year-old unmarried woman in Dallas in 1970 wanted to terminate her pregnancy. McCorvey, who had a 9th-grade education, previously had another child out of wedlock and had given the baby up for adoption. "I was a woman alone with no place to go and no job. No one wanted to hire a pregnant woman. I felt there was no one in the world who could help me," she told the Southern Baptist Convention news service in 1973.
Article content
Q: How did the lawsuit begin?
A: After McCorvey realized she was pregnant, she went to see two Dallas attorneys who were seeking a case to challenge the Texas abortion law. Both Linda Coffee and Sarah Weddington were recent graduates of the University of Texas Law School. They filed a suit in the US District Court for the Northern District of Texas on behalf of "Jane Roe" and a married couple identified only as "Jane and John Doe." The suit argued the Texas law was "cruel" and "inadequate," especially for poor women who couldn't afford to travel to other states to obtain legal abortions.
Q: Who was the Wade in Roe v. Wade?
To: Henry Wade was the Dallas County district attorney who enforced the Texas abortion law. Wade had gained attention in 1962, when he was scheduled to prosecute Lee Harvey Oswald for assassinating President John F. Kennedy in Dallas. Instead, Wade oversaw the conviction of Dallas nightclub owner Jack Ruby for fatally shooting Oswald at Dallas police headquarters.
Article content
Q: What happened in the abortion case?
A: On June 17, 1970, a three-judge federal panel struck down the Texas abortion law. The judges found the statute was too "vaguely worded" and violated the right to privacy in the Ninth Amendment to the US Constitution. Wade appealed the decision to the US Supreme Court. So did Jane Roe's lawyers, because the court dismissed their request for injunctions against enforcement of the Texas law. The court also dropped Jane and John Doe as plaintiffs.
Q: When did the Supreme Court hear the case?
A: The court decided to take the case in early 1971 but put off arguments until it had decided two related cases. Arguments in Roe v. Wade finally began on Dec. 13, 1971. At the time, abortion was illegal in 29 states.
Article content
Q: What was the makeup of the court?
To: Warren Burger, an appointee of Republican President Richard M. Nixon, was chief justice. Soon after arguments began, Justices Hugo Black and John Marshall Harlan II retired. To replace them, Nixon appointed Lewis Powell Jr. and William Rehnquist. Six of the justices were now Republican appointees.
Q: Why wasn't a ruling issued until 1973?
A: In May 1972, the court decided the case should be reargued in the fall term because the two new justices hadn't heard arguments and couldn't vote. The court held a second round of arguments on Oct. 11, 1972.
Liberal Justice William Douglas opposed the delay in a presidential election year. The fact that he had written a memo dissenting against the decision to rehear the case was leaked to The Washington Post. Douglas's full memo was revealed in the book "The Brethren: Inside the Supreme Court," by Bob Woodward and Scott Armstrong. It read, in part: "To prolong these Abortion Cases into the next election would in the eyes of many be a political gesture unworthy of the court."
Article content
Q: How did the Supreme Court rule?
A: The court ruled "that a woman has an absolute right during their first three months of pregnancy to decide whether to bear her child," The Washington Post reported. After the first trimester, abortion can't be banned before the pregnancy is "viable" – in other words, before a baby would be able to survive outside the womb. Justice Harry Blackmun, in the majority opinion, wrote, "This right of privacy, whether it be founded in the Fourteenth Amendment's concept of personal liberty and restrictions upon state action, as we feel it is, or … in the Ninth Amendment's reservation of rights to the people, is broad enough to encompass a woman's decision whether to terminate her pregnancy."
Article content
The ruling landmark came two days after Nixon was sworn in for a second term. News of the ruling was overshadowed in newspaper headlines across the world by news that former president Lyndon B. Johnson had died at age 64.
Q: Did the 1973 ruling settle the abortion issue?
A: Not permanently. In a 1992 decision in Planned Parenthood of Southeastern Pennsylvania v. Casey, the court replaced the trimester framework with an "undue burden test": States couldn't erect substantial obstacles to obtaining an abortion before viability.
Q: What happened to Jane Roe?
A: While her case was pending in Texas, McCorvey gave birth to a daughter, whom she gave up for adoption. When she revealed her identity de ella shortly after the Supreme Court ruling, she said, "I'm glad the court decided that women, in consultation with a doctor, can control their own bodies."
Article content
But McCorvey later felt snubbed by abortion rights advocates. In 1995, after a religious conversion, she became an outspoken critic of abortion.
McCorvey died on Feb. 18, 2017, at age 69 while living in an assisted-living facility in Katy, Texas. In what she called a "deathbed confession," McCorvey said she had been paid by religious interests to turn against abortion. "I took their money, and they'd put me out in front of the cameras and tell me what to say," McCorvey said in an interview filmed for the 2020 FX documentary "AKA Jane Roe." She added, "If a young woman wants to have an abortion, that's no skin off my ass. That's why they call it choice."
Q: What happens next?
A: Chief Justice John Roberts confirmed the authenticity of Justice Samuel Alito's draft opinion to overturn Roe v. Wade in a pending case involving Mississippi's anti-abortion law and said the court will investigate the leak to Politico. The draft decision still could be changed. In any case, the Supreme Court's decision, likely coming this June or July, is expected to be the most momentous ruling on abortion in nearly 50 years.