"I joined the Liberal Party because the values ​​of the Liberal Party, those Menzies' values ​​resonate with me and I certainly would like to see the party returned to those values ​​going forward."
Liberal Senator Michaelia Cash revealed on Sunday that she and fellow WA heavyweight Ben Morton – who lost his seat of Tangney – had urged Morrison not to support a legal challenge, brought by Clive Palmer, to force the state to open its borders.
One Liberal MP from the moderate faction, who asked not to be named so they could discuss the result frankly, said the party needed to once again become the party of economic and social liberalism – or face the loss of further seats to teal independents in the future.
"Embracing economic populism and culture wars was not a winning strategy. This strategy did not work, it was a complete failure," they said.
That MP said Morrison's captain's pick pre-selection of Deves in Warringah had backfired spectacularly because of her views on transgender issues.
A second senior MP, was critical of Deves as a candidate saying, "we need to start selecting the right MPs for these inner-city seats" and that a repeat of the pre-selection debacle in NSW could not be allowed.
Many MPs warned the party should avoid massive bloodletting and that on issues such as climate change, the party simply had to accept net zero by 2050 was settled policy and move on.
On election night, Morrison confirmed he would stand aside as leader but also said he planned to remain in parliament – ​​at least for now.
"My last thank you tonight is to the people of Cook. They have supported me so strongly and I will continue to be your representative and I will continue to stand up for the values ​​of our shire," he said.
A close ally of Morrison's said on Sunday morning the outgoing prime minister's political future would become clear in the coming months.
"I don't know if he will serve a full term, it will depend. We should know in the next six months," they said, speaking on condition of anonymity.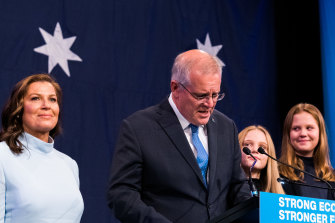 NSW Liberal Senator Hollie Hughes, who is close to Morrison, paid tribute to the outgoing prime minister on Sunday morning.
Scott Morrison is not [former prime ministers] Malcolm Turnbull or Kevin Rudd – he will never forget the Liberal Party has given him the privilege of this office and he will maintain for the rest of his career a dignity that unfortunately we have only seen from Tony Abbott, John Howard and Julia Gillard," she said.
"After 20-plus years of politics and friendship together, whilst Scott brushed off the personal attacks, those of us who knew him best know how unfair they are."
loading
"When things settle down, I am very much looking forward to a margarita or three with Jenny [Morrison]," Hughes joked.
Since 2007, when Howard lost the prime ministership and his Sydney seat of Bennelong, ex-prime ministers have tended not to hang around long on the federal stage.
Gillard and Turnbull quit politics within a matter of months of losing the nation's top political job, while Rudd did the same the second time he lost. In contrast, Abbott remained in parliament for four years after his designation of him as leader in 2015 – and was roundly rejected by voters in Warringah in 2019.
Albanese has told colleagues he is not in a rush to move into The Lodge or Kirribilli House, the prime minister's official residences in Canberra and Sydney, and that the Morrison family should take their time in moving out.
The Morning Edition newsletter is our guide to the day's most important and interesting stories, analysis and insights. Sign up here.