This will mean pulling back on some of the airline's regional routes in Eastern Canada, said CEO Alexis von Hoensbroech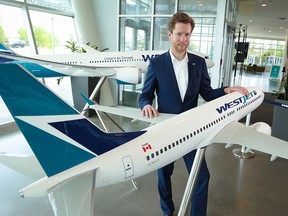 Article content
WestJet is focusing on its western roots as it works to meet pent-up travel demand.
Article content
New CEO Alexis von Hoensbroech delivered his vision for the Calgary-based airline Thursday morning, focusing on growth as a low-cost carrier, growing its presence in Western Canada, investing further in sun and leisure travel through its pending acquisition of Sunwing, and investing in technology to improve guest experience and simplify internal processes.
Article content
Von Hoensbroech said it is about playing to their strengths, especially coming out of the pandemic.
"We have some scars from the pandemic that we have to weather, so we have to be very thoughtful on where we put our investments," he said. "We want to grow, we want to be profitable, and we can do that and, after all, we have to deploy our assets where they bring most value to Canadians."
Article content
Von Hoensbroech assumed his post on Feb. 15 and has spent the past 100 days evaluating the airline, understanding its people and developing a path forward.
He said the airline will pause further investment into its 787 Dreamliner fleet to instead focus on adding 30 Boeing 737 MAX airplanes to its fleet in the coming years, including 15 in 2022.
Article content
This does not mean the end of its foray into the massive transcontinental sector. The CEO said WestJet will be basing its fleet of seven Dreamliners out of Western Canada. Its current European routes will also continue as planned.
WestJet will maintain its premium offerings, focusing on the premium leisure and corporate premium segment in the West.
The company will also restructure its regional fleet of De Haviland Q400 aircraft to focus on Western Canada in an effort to remove complexity from operations, and prioritize connectivity in the West. This will mean pulling back on some regional routes in Eastern Canada. In doing so, Van Hoensbroech said this will likely increase the number of regional routes in the West as well as how often they are flown.
Article content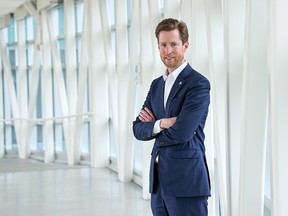 "Flying with a Q400 turboprop 14 times a day between Toronto and Montreal (both ways combined), that's not regional flying," he said. "That's being with the wrong aircraft in the wrong market. And that's what we are fixing."
The routes will still be served but likely through an increase to its 737 fleet.
The changes will be phased in over an extended period of time, beginning in 2023.
WestJet will also increase non-stop flights from west to east using 737s.
Von Hoensbroech said despite the restructuring, the airline is still in hiring mode, currently at 40 per cent below pre-pandemic staffing levels. While WestJet remains in a growth position, the CEO did say 787 flight crews in Eastern Canada would be affected by those flights being centralized out of Calgary, though he expects this to be partially balanced out by the increase in 737s.
Article content
WestJet has returned to pre-pandemic levels of traffic in Western Canada but is still playing catch up in the east, including still lagging 25 per cent out of Toronto.
He was unclear as to what degree flights will be made more affordable, but it would be done not just through ultralow-cost airline Swoop.
With the moves, WestJet aims to bring operations into better financial order and lower operational costs, which could in turn lower the cost of a ticket. The industry is also battling the rising cost of fuel but WestJet is countering this by bringing on more 737 MAX jets, which are more fuel efficient. The airline is also dealing with rising input costs such as airport improvement fees and Nav Canada fees.
"We have some factors that allow us to offer more affordable prices in the end," said von Hoensbroech. "Our ambition is to be more affordable than our competitors and we will achieve that."
Article content
The airline cracked the code of expensive air travel in Canada in the mid-'90s by offering streamlined services but cheap and cheerful flights. Its backbone was customer service dished up with a joke. Canadians respond and travel by air increased at a rapid rate.
In recent years, however, ticket prices have largely been on par with the other 800-pound gorilla, Air Canada, creating room for more competition in the ultralow-cost market, especially in the West, with airlines such as Lynx, Flair and soon Jetlines coming online.
Rick Erickson, a Calgary-based aviation analyst, called the plan "pragmatic" and will refocus the airline on its strengths of affordability.
"I see, too, that they're really building sort of a fortress west," he said. "I surmise (the east) is a challenging environment for them to make progress in when there's other low-hanging fruit across the country. And I see them being cautious like we know WestJet is and has been in the past."
He said this strategy is great news for Calgary, specifically, and building it up further for international ferry and sunspot destination flights.
"If I'm the Calgary Airport Authority, you gotta give this plan to great big Yahoo!" said Erickson. "This is exactly what Calgary airport needs."
jaldrich@postmedia.com
Twitter: @JoshAldrich03