Khari Jones has a decision to make on who will start at quarterback following Montreal's second consecutive defeat, 20-19, Thursday night to the Toronto Argonauts.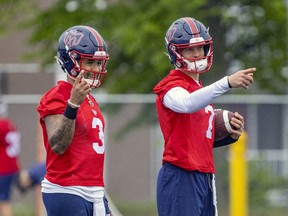 Article content
TORONTO — It somehow seemed inevitable this day was coming, almost from the time last February when the Alouettes re-signed veteran quarterback Trevor Harris to back-up or push starter Vernon Adams Jr.
Article content
The time was going to come when head coach Khari Jones, in the final year of his contract, was going to make a switch if things didn't progress as planned — arguably to save his job, if necessary.
But who could have envisioned the move would come in the second quarter of the second regular-season game? That somehow seemed premature; somewhat of a knee-jerk reaction. And now Jones and the entire organization have a decision to make on the starting quarterback following Montreal's second consecutive defeat, 20-19, Thursday night to the Toronto Argonauts at BMO Field.
Adams had completed only two of four passes for 14 yards when he was removed, slightly more than five minutes into the second quarter. He and the Als' offense had struggled to that point, held to one first down and 17 yards' offense in the opening quarter. But Montreal was still in the game, trailing 4-3.
Article content
"I just felt like it was time," Jones said. "We weren't really moving in that first quarter. I just felt like Trevor would give us a little lift. I did a solid job.
"I'm not sending a message," he continued. "I'm just trying to win football games; that's all I'm looking to do. We happen to have solid quarterbacks. I was just trying to get the best quarterback in there. There was nothing premeditated. I wanted to see a different flow. That's why I did it."
Jones said it was his decision, although general manager Danny Maciocia watched the game from the sideline, near the Als' bench. And not too far from him hovered owner Gary Stern, a Toronto native, who could be seen whispering into the GM's ear on occasion. It was Stern, who spent three days in Montreal this week watching the team practice, who predicted on Tuesday his team would "kill" the Argos.
Article content
Jones, predictably, refused to identify whether Harris or Adams would start next Thursday, when the Als host the Saskatchewan Roughriders. But Montreal's now 0-2 for the first time since 2019 — albeit those defeats coming by a cumulative four points; so thin is the margin between wins and losses. And with each setback, it's imagined the noose around Jones' neck gets slightly tighter.
Adams, who hasn't always handled personal setbacks with diplomacy, has matured this season and said he felt the move was coming.
"I'm not really surprised," he told the Montreal Gazette. "Khari felt like I wasn't seeing it clearly. He wanted to get a change of pace. I'm proud of Trevor. He's the ultimate pro. A veteran and leader. He came in and did what he was supposed to, moved the ball."
Article content
And what now, moving forward?
"I don't know," Adams said. "We're going to find out this week. I just have to get back to work and we've got to get a win."
Harris was far from perfect but did complete 18 of 30 passes for 270 yards despite a slow start. He also threw a critical interception — when he and receiver Hergy Mayala got their signals crossed — late in the second quarter that resulted in a field goal and an 11-6 Toronto lead.
But Harris also rallied the Als in the final quarter, when they outscored the Argos 10-1 and were in position to win. With less than three minutes remaining in the period, Harris directed Montreal on a time-consuming 10-play, 63-yard drive, putting David Côté in position for a 21-yard chip-shot field goal in the final seconds. But Côté, who had already made four field goals — the longest from 43 yards — somehow missed and must wear the goat horns, knowing the game was on the line and he failed.
Article content
"I just missed it," Côté succinctly stated to RDS on the field following the demoralizing setback.
"I haven't seen anything really," Jones said. "I just saw (the official) say it was wide left. I know Côté is feeling it, too. It's a gut-punch and you hate for that to happen to a young kicker but we needed it. It's just unfortunate."
One week after scoring 27 points in a narrow defeat at Calgary, the Als' offense struggled, scoring only one touchdown on a short run by third-string quarterback Dominique Davis. And it took Montreal more than 54 minutes to find the end zone. The two-point convert was unsuccessful. Had the Als attempted the conventional point-after, Côté's last-second miss and single point would have sent the teams to overtime.
Article content
"I made my fair share of mistakes as well," Harris said. "We have to have a little bit more of a sense of urgency. I'm disappointed to have it end like that for sure. It's never one play or one player. You win and lose as a team. We have to lick our wounds and come back with more intensity from the jump."
While Eugene Lewis again led Montreal receivers, catching seven passes for 127 yards, Canadian tailback Jeshrun Antwi — replacing the injured William Stanback — never found his groove, held to 29 yards on eight carries. The Als, who rely on the ground game, generated only 73 yards rushing.
David Coté misses last-minute field goal as Alouettes fall to 0-2

Alouettes' Chandler Worthy hopes it's finally his time to shine

Canadian tailback Jeshrun Antwi has big cleats to fill in Alouettes' backfield
hzurkowsky@postmedia.com
twitter.com/HerbZurkowsky1