City experienced minor floods and 60 millimeters of precipitation in a few hours, beginning around 5 pm, and 6.35 cm of hail registered.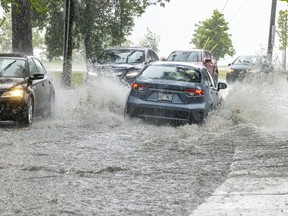 Article content
A series of severe thunderstorms rolled through southern Quebec Thursday, with Environment Canada warning of strong winds, hail and heavy rain.
Article content
"The worst is over," said Environment Canada meteorologist Dominic Martel, around 8:30 pm, noting that Montreal experienced minor floods and 60 mm of precipitation in a few hours, beginning around 5 pm
"Our McTavish weather station, downtown, registered 35mm in one hour, and 50mm in three hours, and there were reports of 60 mm."
The storm converged around Montreal, with the most severe weather being 6.35 cm of hail registered.
"It started in Vaudreuil, Carillon and Pointe-Fortune (in the west) and went up the North Shore to Lachute, where it petered out gradually," Martel said, noting that the biggest hail recorded was "the size of baseballs."
Environment Canada registered tornado-like activity on the radar around Mont-Laurier, in the Laurentians.
Article content
"We saw a big tornado-like signature on the radar," Martel said, "but we have no confirmation. There has to be damage (to know for sure). If it's in the forest, it can take days for the information. But on the radar, there was good rotation that continued for some time. It was a nice enough signature for us to send a tornado warning."
Although the weather was intense, Martel explained that it's not unheard of.
"Every summer, there are days like this," he said, "but I think it will be among our top five summer storms. You don't see 5 cm hail every summer, but it's not like it's never been seen before."
A severe thunderstorm warning issued Thursday afternoon covered the Montreal area as well as Laval, Vaudreuil, Lachute, St-Jérôme and the Lanaudière area.
Article content
"At 4:49 pm EDT, Environment Canada meteorologists are tracking an area of ​​severe thunderstorms capable of producing very strong wind gusts, nickel to ping-pong-ball size hail and heavy rain," the meteorological agency said.
By 4 pm thunder, lightning, hail and heavy rain was being reported on several parts of the island of Montreal. Torrential rain was leading to water accumulation on streets and highways, and dark clouds filled the sky. Part of the metro's Blue Line was closed because of water infiltration.
Environment Canada anticipated another round of storms between 5:30 and 6:30 pm
"Expect downpours and hail," the agency tweeted.
An emergency alert was also issued on mobile phones in Montreal, urging people to take cover if threatening weather approaches.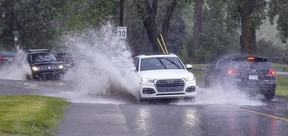 A tornado warning was issued for Mont-Laurier in the Rouge River–La Minerve region.
"This is a dangerous and potentially life-threatening situation," Environment Canada said. "Take cover immediately if threatening weather approaches. If you hear a roaring sound or see a funnel cloud, swirling debris near the ground, flying debris, or any threatening weather approaching, take shelter immediately."
Article content
Hydro-Québec reported 43,000 customers without power at 6:00 pm, more than half in Montreal, the Laurentians and the Outaouais region. By 9 pm, that number had dropped to 36,595, total, including 12,000 for Montreal.
Flights in and out of Trudeau airport in Dorval were delayed or canceled Thursday afternoon.
Various storm alerts were issued for much of southern Quebec, including a tornado watch for the Laurentians, which is still recovering from a right that downed trees and cut power to hundreds of thousands of Hydro-Québec clients.
"Hail is formed when updrafts in thunderclouds carry raindrops upward into extremely cold areas of the atmosphere, where they freeze and merge into lumps of ice," Environment Canada says. "When the lumps become too heavy to be supported by the updraft, they fall to the ground at speeds of up to 100 km/h or more."
Article content
Although grapefruit-sized hail has fallen in Canada, even smaller hail can cause damage to people and property.
Last June, Quebec was hit by four tornadoes, including one that left a man dead and extensive damage in Mascouche, in Lanaudière.
There are six classifications of tornado, ranging from EF0 (weak) to EF5 (violent). There have been two EF3 tornadoes in Quebec in the past six years. In 2017, two houses were destroyed in Ste-Anne-du-Lac. The next year, houses, vehicles and trees were destroyed in Gatineau. Tornadoes of any category can cause severe damage.
Tornado safety tips from the federal government
If you live in one of Canada's high-risk areas, listen to your radio during severe thunderstorms.
Get as close to the ground as possible, protect your head and watch for flying debris.
Do not chase tornadoes. They are unpredictable and can change course abruptly.
A tornado is deceptive. It may appear to be standing still when it is moving toward you.
Follow instructions for what to do during a tornado.
Find more information at getprepared.gc.ca.
Storms that ripped through Quebec in May cost Hydro $70 million in repairs

Frostquakes and thundersnow: Absurd winter weather beyond the polar vortex