The Bibliothèque nationale hosted a conference on the topic with speakers like Pauline Marois and the director of the Learning Planet Institute.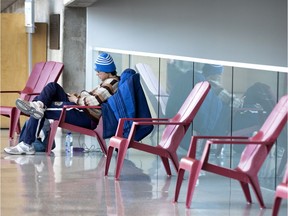 Article content
Quebec's Bibliothèque nationale wants to promote a "learning society" — one that promotes lifelong learning for all, whatever their age or walk of life.
Article content
"This vision of the learning society is something that has been on my mind for a very long time," said Bibliothèque et archives nationales (BAnQ) chief Marie Grégoire.
The Berri St. library on Wednesday hosted a one-day conference on the topic, featuring speakers including former premier Pauline Marois and François Taddei, a French evolutionary biologist and director of the Learning Planet Institute in Paris.
Grégoire, who was named president and director of the provincial library network in July 2021, said the idea came to her during a walk in the woods.
"I came in on Monday morning and told the team, 'We're going to create an event where we can get together to discuss the definition of a learning society,' " she said.
Article content
The idea is not new: international organizations including the Organization for Economic Cooperation and Development (OECD) and UNESCO have promoted the importance of knowledge-based societies for years.
But the rise of political populism and proliferation of online disinformation in recent years makes it more important than ever for societies to redouble their efforts to promote learning — not just within the education system but in all spheres of life, proponents say.
"We need to be able to co-construct a common future where there is room for everyone," Taddei said in a video presentation from Paris.
That involves overcoming inequalities and combatting movements "that challenge democracy itself, as we saw with the Capitol attack or in populist movements around the world," he said.
Article content
The pace of technological change, along with challenges like the COVID-19 pandemic and climate change, require members of organizations constantly to upgrade their skills and use teamwork to find solutions, he said.
Marois, who held cabinet posts in different Parti Québécois governments before serving as premier from 2012-14, was a moving spirit behind the creation of Quebec's daycare system, the introduction of full-time kindergarten and abolition of confessional school boards.
"Of all of the ministries I had the privilege of leading, the one I loved the most was the Ministry of Education," she said.
In the 1990s, "we sensed that the society of the future would be a learning society," she said.
"At the time, if we made a mistake, it was in underestimating the scope and the speed of the changes to come," she added.
Article content
"My conviction is that the wealth of nations will be defined by the choices they make on education," Marois said.
The appointment of Grégoire, a former politician, political commentator and corporate manager, aroused controversy last year because of her lack of library experience.
But she said her hope is to reach beyond libraries' traditional clientele.
"Yes, we already have some people who are lifelong learners and we have libraries that serve them, which is marvelous, but how do we ensure that no one is left behind?" she asked.
"And that's the goal of this event, to try to weave together a canvas that is sufficiently inclusive that everyone in Quebec will be able to become a lifelong learner," she said.
mscott@postmedia.com
Life in lockdown: Way beyond books as Grande Bibliothèque thrives online

Montreal libraries have abolished late fees