With a thunderstorm in the forecast, fewer people than usual attended events on Crescent and Pell Sts. downtown, but good fun was had by all.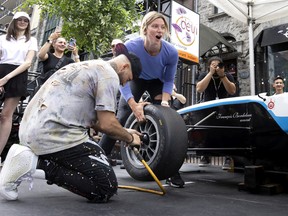 Article content
Much has changed since Karla Marshall started planning her Grand Prix trip to Montreal with her sister Jasmine Toews and friend Emily Bonner.
Article content
"Yes, we did plan this before the baby arrived," she said while wearing a red Ferrari hat as her 8-week-old son Oliver whined in his gray Baby Björn carrier.
"We got him little ear muffs and some for us, too," Marshall said, holding one of the numerous non-alcoholic seltzer drinks being given away on the streets of downtown Thursday. "We had planned it before we found out I was pregnant."
Marshall flew in from Saskatoon, her sister Toews traveled from Nova Scotia, while Bonner joined from Vancouver. Longtime F1 fans, it was the first trip to the Grand Prix for each of them. They said they owe their love of the sport to the sisters' recently departed grandfather, who hailed from Italy, so part of the reason for the trip was to pay homage to his memory of him. They're staying in an Airbnb in La Prairie and taking public transit into the city to attend race events.
Article content
They were among hundreds who flocked to Crescent St. and Peel St. on Thursday to take in the celebrations of F1. Aside from non-alcoholic beer and seltzer, there were numerous other giveaways, while fans got to see hot cars and take photos with them.
"I love it. The vibe is really good this weekend," Marshall said.
Bonner said she became a fan of the sport when she was living with Toews during the first COVID-19 isolation period, because that's when her grandfather died.
"I became a fan, because we watched a race in honor of him," Bonner said. "When Oliver came along, we were worried that Karla wouldn't make it, but he has been a trooper and so has Karla."
While a tamer affair than previous years, perhaps due to the looming storm, there was still excitement in the air on Crescent St. Thursday.
Article content
Sarah took advantage of a pedagogical day to take her daughters Sophia and Julia to see the festivities.
"We have Italian roots; my parents were born in Italy, so we're big fans of Ferrari, "said Sarah, who did not want her last name published. "It's a very special event, and it's nice to see people back after the two years when it was cancelled."
Julia said the highlight for her was to see the Ferrari race car that was used in 2011.
Olympic gold and silver medalist Laura Stacey was among several members of the Team Canada hockey team and other celebrities to take part in the traditional Pit Stop Challenge, and she won her challenge while teamed up with Canadian singer-songwriter Karl Wolf.
"It was a lot of fun, and just being around all these incredible people was great; I'm honored and glad I could be a part of it," Stacey said.
Article content
She said she planned to go to the qualifying race on Saturday. Stacey calls Montreal home, and it's where she trains during the year. As a member of the Professional Women's Hockey Association, she also has been working to put together a women's professional hockey league, and said it's an exciting time for women's sport, especially after the recent hiring of teammate Marie-Philip Poulin by the Montreal Canadiens.
"I think we are months, if not weeks away from creating something like that," Stacey said. "There is a lot of interest in women's sports, and we need to funnel it and make sure it's going toward that the league will last forever, that little girls can aspire to be a part of. It's all about inspiring that next generation."
Kahnawake resident Jay Deer said it was a great day to be downtown and soak up the atmosphere.
"We can experience something amazing. It brings people from all over the world, see some beautiful women, nice cars," Deer said. "I mean that's what life's all about, right? It sucks for parking, but other than that it's great. We can really enjoy the city for a couple of days."
jmagder@postmedia.com
Downtown Montreal merchants rev up prices for Grand Prix hordes

Buchignani: The Grand Prix is ​​back in Montreal; so what's changed?