Article content
How do you know summer is here?
Article content
The midway returns to Windsor's riverfront.
After a two-year hiatus, the World's Finest Shows midway — a tradition on the Windsor waterfront for more than 45 years — starts Friday and runs through July 3.
Following a pandemic pause, World's Finest Shows resumed hosting carnivals midway through last summer, but didn't stop in Windsor.
There are several ticket options. Each ride requires three to five coupons. It's $15 for 10 coupons, $32 for 22 coupons and $55 for 40 coupons.
All-day ride passes for the midway will be sold at local 7-11 stores in Windsor beginning Monday. "Pay One Price" wristbands, available for purchase online, are $35. For additional information about tickets, the rides and more, go to worldsfinestshows.com.
Article content
The carnival will operate on both sides of Festival Plaza, and will be in Windsor through two of the city's biggest summer spectacles: Ford Fireworks night and Canada Day.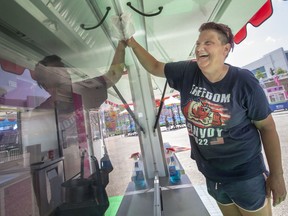 The Ford Fireworks are set for June 27 — also after a two-year absence — when rResidents can enjoy a free ride thanks to a partnership between Zehrs and the City of Windsor.
Transit Windsor will provide free regular bus service across the city, plus a free direct service from Devonshire Mall to a drop-off location near city hall. Riders must wear masks while on the bus.
Windsor's Canada Day Parade this year takes place July 1, starting at 11 am, on Wyandotte Street East between Devonshire Road and Aylmer Avenue.
twilhelm@postmedia.com