Spain has a strong feminist movement and Sanchez has made women's rights a priority for his government, declaring earlier this year that it was "only through feminism that will we build the best democracies". About 60 per cent of his cabinet are women, the highest proportion in the country's history, as well as all three of his deputy premiers.
Spain legalized abortion on demand in the first 14 weeks of pregnancy, or up to 22 weeks in cases of severe fetal abnormalities in 2010, but access to the procedure is complicated because many doctors in public hospitals refuse to perform abortions.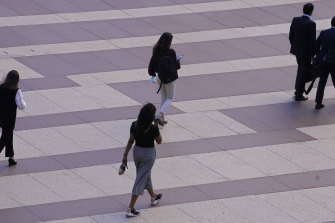 The new measures, which will now go to the Spanish parliament and Senate for approval, have divided political parties, including some within the government who blocked attempts to exempt sanitary pads and tampons from the European Union's VAT, broad-based consumption tax on goods and services.
Conservative parties have cried foul with the far-right Vox group -the third-largest in parliament – saying menstrual leave was "insulting" and abortion rules should not be loosened.
Some within socialist movement have voiced concerns menstrual leave could backfire against women by discouraging employers from hiring them.
"We must not have to go to work in pain."

Carolina Vidal, Union Workers Commissions
Cristina Antonanzas, deputy secretary of the leading Spanish trade union UGT, warned that the move could "stigmatize women".
"In the long term, it may be one more handicap that women have in finding a job," she told Spanish radio. "Because we all know that on many occasions we have been asked if we are going to be mothers, something that must not be asked and that men are not asked. Will the next step be to ask us if we have period pains?"
But Spain's other main trade union, Comisiones Obreras, supported the measure declaring it would help women.
Carolina Vidal, the union's secretary for women, equality and working conditions, said: "We have been fighting all our lives against stigmatization by society, politics and the economy. Do we now have to hide because we are women and have painful menstruation? This is contrary to feminism. We must not have to go to work in pain."
"It may be one more handicap that women have in finding a job."

Cristina Antonanzas, UGT trade union
But she has raised concerns about the details of the proposal, particularly the fact that women would have to prove they suffer from a condition known to worsen period pain – such as endometriosis or polycystic ovary syndrome – to claim the leave.
loading
In Japan, the policy's popularity has declined since it was introduced in 1947, with a Nikkei Group survey in 2019 showing just 1.9 per cent of respondents at companies with menstrual leave policies used it "almost every time". Reasons for their reluctance included not wanting to trouble colleagues and feeling awkward about approaching male bosses.
Last year, the ex-CEO of South Korea Airline was fined AU$2600 for denying female staff members the right to menstrual leave.
Get a note directly from our foreign correspondents on what's making headlines around the world. Sign up for the weekly What in the World newsletter here.