The five-year, $2.9 billion action plan includes 25 measures aimed at improving seniors' quality of life in Quebec long-term care homes.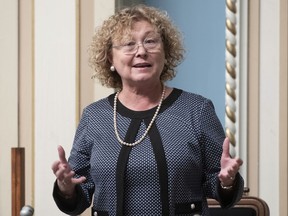 Article content
People living in Quebec's long-term care centers and other residences deserve to receive more personalized services and care, Seniors Minister Marguerite Blais said on Thursday.
Article content
Blais made the comments as she unveiled a five-year action plan that follows the housing policy she tabled last year. With the minister leaving politics at the end of her current mandate, the plan could be perceived as her political legacy.
During a news, Blais said her goal in politics was always to stand up for the "invisible" seniors who lose their independence and are too often left to fend for themselves.
"I want these people to become visible," Blais said while presenting the plan.
Every year, the Quebec Ombudsperson reports multiple cases of negligence and failings in the care provided in the province's long-term care centers or CHSLDs.
Blais said she wants the plan to implement a new culture, one that focuses on continuity between the life a person had before moving into a home and the new one they're starting in a residence.
Article content
For example, Quebec wants to ensure that long-term residents can decide for themselves at what time of the day they would like to eat their meals and when they would like to be bathed. The plan also intends to improve the quality of meals served in the homes, which has often been documented as being substandard.
Another example Blais gave was allowing a pianist to move their piano into a CHSLD or ensure a painter can bring their brushes and easel with them.
Despite the plan's ambition, centers still won't face penalties if they don't live up to the standards it puts forward. Asked about this, Blais said she wanted to "start by talking about the positive" aspects instead.
In all, the five-year plan includes 25 measures totaling $2.9 billion.
Article content
Most of the money will be spent on addressing staffing shortages within the homes, including hiring more orderlies, nurses, pharmacists, dentists and managers.
Blais said this could amount to hiring a few thousand people, but could not put an exact figure on the number of hires expected in coming years.
The plan will not only apply to long-term care centers but also to intermediate resources, public seniors' homes and alternative housing options.
It will also aim to offer more on-site care in order to reduce the number of residents who are transferred to hospitals.
Overall, the guiding principle is that all of the homes become better adapted to each resident on a personal level, "in continuity with their history and life experience, values, preferences, needs, culture and language."
Residents' sexual orientations and gender identity must also be taken into account, the plan states.
Under fire for Herron response, ministers McCann and Blais won't run again

'Am I on trial here?' Blais says she's not the only one to blame for CHSLD fiasco

Tragedies in CHSLDs were predicted long ago, Quebec ombudsperson says