"Our friends, neighbors and communities are suffering deeply from the pandemic, exacerbated by cuts to and gaps within the system"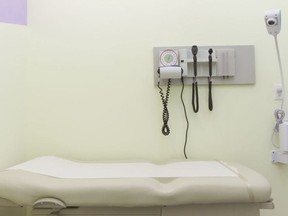 Article content
Associations representing thousands of health-care workers in Alberta say they want politicians to focus on mental health, the drug poisoning crisis and infrastructure during next year's election campaign.
Article content
On Thursday, the Edmonton Zone Medical Staff Association and the Calgary and Area Medical Staff Society announced seven key areas they believe the provincial government elected next year needs to address.
"This is a critical time to invest in Albertans and our health system," said Dr. Katherine Kasha, co-chair of the elections platform committee.
"Our friends, neighbors and communities are suffering deeply from the pandemic, exacerbated by cuts to and gaps within the system. Our next government must rebuild what was previously a top health-care system in this country."
The committee's aim is to inform political parties running for government what physicians would like to see in their election platforms to address health care.
Article content
Key priorities include addressing mental health and the drug poisoning crisis, which killed more than 1,800 Albertans in 2021.
The joint committee is recommending increasing funding for and expanding coverage of mental health services to improve the delivery of care, and for increased support for family physicians to better provide for patients.
"Lack of mental health care funding was a serious problem before the pandemic and the need for care has increased over the last two years," Kasha said. "The government must ensure sufficient and timely access to treatment."
The committee is also pushing for increased funding and resources for pediatric mental health, such as access to care through schools and in-school education of tools and strategies.
Article content
More resources are also needed to address the drug poisoning crisis in the province, and the committee is recommending increased and transparent funding for an expansion of evidence-based addictions care and treatment programs. As well, the crisis should be addressed by including evidence-based harm reduction strategies to prevent poisonings and death.
"This crisis is largely due to the new appearance on the scene of drugs which are increasingly potent and have a variable and unpredictable potency," said Dr. Stan Houston with the committee. "The opioid poisoning epidemic is a multifactorial crisis and it requires a multi-pronged response."
The committee would also like the government to address health-care infrastructure and is recommending a number of items including building new publicly delivered long-term care facilities to provide better care for the aging population and building new hospital facilities to replace the deteriorating and inadequate hospitals , such as the Misericordia Community Hospital.
Article content
It is also recommended that Alberta Health Services and Covenant Health be consolidated to ensure equitable patient care and avoid duplication of administration systems.
"The health-care infrastructure in Alberta, both in terms of facilities and personnel, needs a tremendous overhaul to better meet the needs of Albertans while improving sustainability," said Dr. Jennifer Minsos
Other priorities for the committee include advancing reproductive health, ensuring reliable access to contraception, fertility management, STI screening, and all pregnancy-related treatments. There should also be a provincial strategy to expand reproductive services locally and in rural areas.
The committee would also like to see a collaborative relationship between health-care professionals and the government, ensuring the independence of the chief medical officer of health from the health minister and premier.
ajunker@postmedia.com