"It has been my experience with abusers such as this one that he will not comply at all."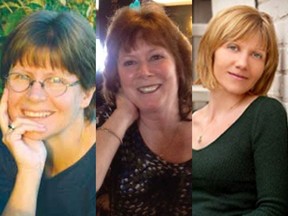 Article content
A rehabilitation officer who worked with Basil Borutski while he was in jail warned his probation officer that she would have to get tough about enforcing Borutski's probation conditions.
Article content
"It is my opinion that the victims are at risk from this individual," said the email from the rehabilitation officer, read Thursday at an inquest into deaths of three women Borutski killed about nine months after he was released from jail.
"It has been my experience with abusers such as this one that he will not comply at all," the email continued. "You will have to breach, breach, breach and breach him forever."
"Breach" is a reference to consequences for failing to adhere to the conditions of probation. The strongest consequence for offenders who disregard the conditions is a breach of probation charge. A conviction can lead to another jail term, the inquest heard.
Borutski repeatedly deceived and manipulated police, probation officers and others in the justice system, but was never charged with breach of probation, the inquest heard.
Article content
Jamie Pearson, the probation and parole quality assurance manager for Eastern Ontario, was on the witness stand for a third day on Thursday in Pembroke.
Kirsten Mercer, a lawyer representing End Violence Against Women Renfrew County, asked Pearson whether getting this kind of email would inform his judgment if Borutski started "wiggling" on his probation conditions.
"I believe it would, yeah," responded Pearson, who was a probation office for 11 years, but was not a probation officer in this case.
Borutski was released from jail in January 2013 after serving less than 30 days. He had been convicted of threatening to strangle Nathalie Warmerdam's son, Adrian, and to kill a family pet.
On Dec. 27, 2014, Borutski was released after serving 575 days in jail after he beat and strangled Anastasia Kuzyk. In both cases, he was ordered to take the Partner Assault Response (PAR) counseling program to help stop violent and controlling behaviour.
Article content
On Sept. 22, 2015, Borutski killed Warmerdam, Kuzyk and Carol Culleton.
Early in December 2014, shortly before Borutski was released from jail after being convicted of attacking Kuzyk, Warmerdam considered requesting a protection order. She against it because she "did not want to bring herself back decided into the offender's focus," according to the probation officer's case notes.
Warmerdam's fear of antagonizing Borutski should have been a red flag, Mercer suggested to Pearson. He agreed, but, when pressed by Mercer, he conceded that the case notes did not show any follow-up.
There were also questions raised in an internal review about whether Borutski should have been considered an "intensive supervision offender," which would have resulted in increased monitoring by his probation officer.
Article content
Pearson said he would categorize this as a "threshold" case.
Failure to attend the PAR program would result in a breach of his probation, but Borutski had numerous and elaborate excuses for why he could not attend even though he could get other appointments, the inquest heard.
Borutski had often flouted his conditions and shown disdain for the justice system. Earlier in the investigation, clinical psychologist Dr. Katreena Scott, an expert on violence against women, said loopholes in the system told abusers there would be no consequences for their actions.
Mercer asked Pearson at what point Borutski would have been breached. Pearson said this would happen after a continued pattern of non-compliance. Mercer responded that anyone listening to the inquest or familiar with the case would have recognized that such a pattern clearly existed during both of Borutski's probations.
Article content
In May 2013, Warmerdam attended a high-risk case review with police, the Crown and others involved in the case over concerns that Borutski wanted to move to Killaoe.
"A number of people identified that they fought to keep him away from the area and now he's weaseled his way back in," Mercer said, adding a police officer also flagged that Borutski "played games with police."
Even though Borutski was under a court order not to be in Bonnechere Valley township, where Warmerdam's farmhouse was located, he still showed up at the edge of her property, which straddled the municipal boundary.
It appeared that Borutski was trying to push boundaries as far as he could and antagonize his victims, said Mercer, who noted a number of people had concerns about Borutski's decision to move.
Article content
Eventually, the court decided to allow Borutski to move.
Warmerdam was concerned that Borutski would lash out if he could not move, the inquest heard.
In June 2013, while Borutski was awaiting a court date, he disputed the need to move with his probation officer, but Warmerdam was not warned that Borutski was angry, even though it could have jeopardized her safety.
Borutski was given an appointment with the probation officer a month later. I missed the June 18, 2013, phone appointment. Under Mercer's questioning, Pearson conceded that this might have been a matter of concern.
Breaches need to be taken seriously, Lisa Oegema, the founding executive director of Victim Services of Renfrew County, told the inquest while outlining recommendations she wanted the jury to consider.
Article content
Victim Services staff have often heard stories from victims and survivors about abusers who have breached conditions, but don't face tough consequences, Oegema said.
"He has gone into the home of his ex-partner and has assaulted her. He's charged with a breach, but there's no jail term," she said. "She's terrified that he's going to come back. He's proven that he can and there's no real consequence."
Thursday was the last day for witnesses at the inquiry. On Friday, the jury will hear closing submissions. Deliberations are to continue on Monday, with a verdict and recommendations expected on Tuesday.