Article content
With the addition of 18,000 net new jobs in April compared to March, the capital region has finally surpassed its pre-pandemic employment record.
Article content
It's been quite a journey.
The first leg occurred between November 2019 and June 2020, when the region's workforce shrank by 106,100 jobs — a drop of 13 per cent — largely reflecting the initial impact of COVID-19 lockdowns. Since then, we've added back 106,500 jobs, according to seasonally adjusted data published Friday by Statistics Canada.
The trend hasn't been uniform. Employment in Gatineau — estimated at 191,900 in April — was 7,000 ahead of the November 2019 peak, while the number of jobs in Ottawa was 6,300 below the peak, for a total of 603,600. Gatineau's jobless rate in April was 2.6 per cent, believed to be an all-time low, while unemployment in Ottawa registered at 5.2 per cent.
A possible explanation for the differences across the river can be found in the makeup of the two cities' respective workforces. During the past year alone, Gatineau added nearly 13,000 jobs in public administration, most of them federal government, for a total of 58,500. This represented 31 per cent of total employment last month compared to not quite 27 per cent in April 2021. (Employment data for industry sectors is unadjusted for seasonal influences).
Article content
Meanwhile in Ottawa, the number of jobs in public administration declined by 5,600 over the same period for a new total of 126,600. That was 21 per cent of total employment, down 22.5 per cent from a year earlier.
The reason for Gatineau's resurgence in public administration jobs isn't clear.
It's possible that significant numbers of government workers moved from Ontario to Quebec during the pandemic to take advantage of Gatineau's lower housing costs. Statcan estimates monthly employment levels by surveying people where they live, not where they work. Also, given the relatively small sample sizes, the margin of error is high.
Even so, Gatineau's jobless rate has been below that of Ottawa — often substantially so — for all but one month during the past year. During the previous year, the first one of the pandemic, it was the other way around.
Article content
Taking a look at the shifts in the workforce across the region, it's clear some industry sectors are still suffering dramatically from the impact of COVID-19. Hotels and restaurants employed 33,400 in April in both cities — down 25 per cent from the pre-pandemic peak. Two other sectors still in recovery mode were transportation (which includes transit workers) and wholesale & retailing. Employment compared to the peak was down 33 per cent and 10 respectively in these two industries.
Sectors that have fared best include: construction (up nearly 13 per cent compared to the pre-COVID peak), professional services (up seven per cent) and public administration (up seven per cent).
The relative strength of the latter two could also account for the region's relatively high percentage of at-home workers.
Article content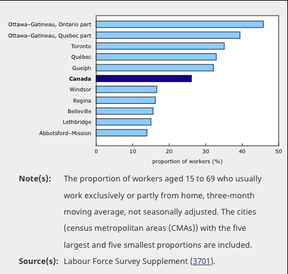 Statcan estimated nearly 46 per cent of workers in Ottawa, and nearly 40 per cent of Gatineau employees, worked partly or exclusively from home in April. These percentages were not only higher than in metro Toronto (35 per cent) but substantially greater than was the case for industry-heavy cities such as Abbotsford-Mission, BC and Lethbridge, Alberta where fewer than 15 per cent of employees worked from home or on a hybrid schedule.
Statcan pointed out the enthusiasm for work-from-home in Ottawa and Gatineau can be accounted for by the large concentrations of public administration, professional services and other white-collar workers—roughly 40 per cent of the total employment base in each case.