The honor was first announced in the winter of 2020, when the Citizen marked its 175th anniversary, and just weeks before the pandemic began.
Article content
The Ottawa Citizen now has the "Key to the City" that its reporters have been covering since 1845, awarded in a ceremony long delayed by COVID-19.
Article content
Mayor Jim Watson made the presentation to editor-in-chief Nicole MacAdam at city hall Thursday "in recognition of extraordinary accomplishments serving generations of readers by sharing news and information in Canada's capital for over 175 years."
The honor was first announced in the winter of 2020, when the Citizen marked its 175th anniversary, and just weeks before the pandemic began.
"We have continued to do fantastic work, through COVID-19 and its variants, school closures, hospitals pushed to the brink, LRT growing pains, a federal election, the "Freedom Convoy," last month's terrible storm, the provincial election and the many other stories that our journalists have covered," MacAdam said in her remarks.
Article content
"And lest there be any doubt, the Citizen will have hard-hitting, comprehensive coverage of this fall's municipal election campaign."
Launched in March 1845 as The Packet — it became the Ottawa Citizen six years later — the newspaper is Ottawa's oldest continuously operated business.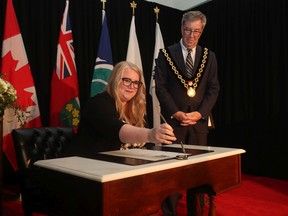 Even before the global pandemic, the newspaper has variously survived a devastating fire, a newspaper war, a crippling strike and industry disruption posed by the likes of Google and Facebook.
The pandemic has left scars on both the Citizen and a broader news industry buffeted by struggling business models and decreased trust in public institutions.
"COVID was both a blessing and a curse for local news," MacAdam said. "It demonstrated how important accurate, timely, information is while robbing us of the revenue we need to survive."
Article content
According to Local News Research Project data, 78 news outlets across Canada have permanently closed during the pandemic, including 65 community newspapers such as the Winchester Press, La Nouvelle in Embrun and the Carp Valley Press.
Studies show that, when local news sources are lost, civic engagement drops and governments become less efficient, while social media, which quickly spreads both misinformation and legitimate news, fills the vacuum.
The Citizen is working to build trust by engaging more with its readers and making sure its coverage reflects the full diversity of life in and around Ottawa, MacAdam said.
Expect to see more journalists engaging with their audience, for example through question-and-answer sessions and responses to reader comments while continuing to welcome letters to the editor and emails.
Article content
The newspaper is also working to ensure that the people reporters talk with and photograph reflect the wide variety of communities in Ottawa, including BIPOC, Indigenous and LGBTQ+ individuals and people with disabilities.
Citizen journalists began reporting on the problems in long-term care long before they were exposed to all by COVID-19, used freedom-of-information laws to report on LRT construction woes as it was being built and were there for troubled times such as the Westboro bus crash, the 1998 ice storm and the 2018 tornadoes.
"We intend to be the oldest operating business in Ottawa for a long time to come," MacAdam said.
"And we will continue to build bridges, to focus on helping readers better understand what's happening in our community through honest, fair, accountability journalism that reflects the rich diversity of life in this great city.
"We hope you'll continue to read."
During Watson's tenure, the Key to the City has been awarded to Daniel Alfredsson, Alex Trebek and Paul Dewar, and to institutions such as the University of Ottawa, the Community Foundation of Ottawa and Carleton University.
With files from Andrew Duffy
Related:
A window into history: A trip back to the Citizen's fascinating beginnings, 175 years ago | Ottawa Citizen
Charles in Charge: Legendary Citizen editor Charles Bowman | Ottawa Citizen