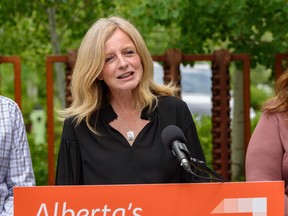 Article content
Alberta Opposition NDP Leader Rachel Notley said Thursday her party is considering hiring an independent firm to look at how internal harassment complaints are dealt with.
Article content
Speaking at an unrelated news conference in Calgary, Notley said if the provincial council agrees at a meeting this weekend, it will find an "independent body with expertise in investigating, mediating and adjudicating respect and harassment complaints in organizations."
She said the goal is to provide a safer place for staff and volunteers to raise concerns.
"The party is our volunteers, so we're working as hard as we can, and it's my responsibility to make sure that we have systems in place that people feel safe about using," she said.
It comes after Notley sent an email to members Wednesday acknowledging the NDP had "fallen short" on providing a safe and respectful environment for volunteers and staff, although it did not specify how. The email also notes the party has been working on updating its anti-harassment policy since the fall of 2021.
Article content
Despite Notley's assurances, former NDP volunteers say they're not confident it will go far enough to address the issues some have publicly sounded alarms about, including allegations of mistreatment and verbal abuse by staff.
Sharie Valentine, speaking to Postmedia Thursday following the news conference, expressed skepticism the party will get to the bottom of the issue while it's focused on winning the 2023 election.
"Because it's been going on for so long, and there's so much that's been swept under the rug, I think there are certain staff members that are now just part of the rug," she said.
"Council is performative, so is an HR policy," she said.
Brandon Beavan, another former volunteer, told Postmedia said he does not have much confidence the moves will address the problems.
Article content
"As long as abusive men remain employed with them, everything they say just rings hollow to me," Beavan said, adding there would need to be serious structural changes to the party before he would consider returning as a volunteer.
Beavan said the latest timeline of a promised anti-harrassment policy doesn't add up.
"I was contacted about them reviewing the harassment policy in 2020 at the beginning of the year, and nothing ever came from that."
Krista Li, a former constituency association president, called Notley's email "disingenuous" while the NDP still employs the staff at the center of some of the allegations.
"You can't keep going through people like they're matchsticks. Very, very, very, very good people have walked away from this party," said Li.
Article content
Notley's comments Thursday come after 15 constituency presidents and regional vice-presidents wrote a letter to Notley and the rest of the party executive in March calling for an independent investigation into what they termed a pattern of mistreatment of volunteers.
They also said there were concerns about how candidates were being picked in nomination races, with long waits for some possible candidates, leading to questions of possible favouritism.
The letter further flagged concerns of constituency association presidents being left out of the loop on issues and that their input was not being taken seriously higher up.
Wyatt Tanton, a volunteer who previously ran to become the party's Camrose candidate, said the party needs clear, strict, unavoidable rules about misconduct that guarantee issues will be addressed.
"This is a party that's intending to form government that doesn't seem to have a proper way to handle what happens if a guy in that party has a power trip," said Tanton.
When asked by a reporter, Notley declined to generally outline how the party had "fallen short."
"I think most of the issues that are at issue are already in the public sphere," she said.
With files from The Canadian Press
lijohnson@postmedia.com