A day after a scathing report into money laundering, the New Democrats want to ensure the issue follows the Opposition until the next election.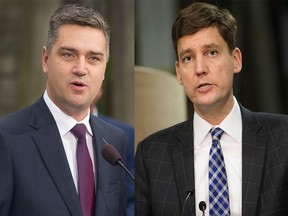 Article content
A day after a scathing report into money laundering found that inaction by several BC Liberal cabinet ministers allowed dirty money to flow through casinos, the party is playing down the political consequences while the New Democrats want to ensure the issue follows the Opposition until the next election .
Article content
Commissioner Austin Cullen's report, released Wednesday, found at least two BC Liberal ministers responsible for gambling were aware that casinos were being used to launder the proceeds of crime and their inaction contributed to the problem.
However, Cullen said politicians were hampered by conflicting information about whether the BC Lottery Corporation was able to deal with the problem. The corporation insisted it had a strong and effective anti-money-laundering regimen.
In fact, Cullen found that former BCLC CEO Michael Graydon was more concerned with bringing in revenue to meet budget targets than tamping down the flow of illicit cash. Graydon sent emails in late 2011 and early 2012 to senior BCLC staff warning that failure to increase revenue would mean bonuses wouldn't be paid.
Article content
"The tone in government is not good these days and to not achieve budget, then pay out incentive will not fly," Graydon wrote in a Dec. 1, 2011 email. An email two weeks later said: "Victoria is not keen to pay incentives if budgets are not met."
On March 23, 2012, Graydon wrote "our shareholder has a real keen desire to increase revenue." Graydon testified during the inquiry that the Crown corporation's shareholder is the government.
Attorney General David Eby said this shines a light on BC Liberal leader Kevin Falcon who was finance minister in 2011 and 2012. Falcon was not named in Cullen's report and has not commented publicly since its release.
"I think (Falcon) at some point is going to have to explain his own activities and building his budget on dirty money and pressing the BC Lottery Corporation to increase revenues and the impact that may have had," Eby told Postmedia News on Thursday.
Article content
Eby alleges one of the reasons the BC Liberal party is looking to change its name is to escape the association with the money-laundering report. Falcon has said the name change is focused on eliminating perception of ties to the federal Liberals.
Falcon could not be reached for an interview, Thursday but Liberal jobs critic Todd Stone said in a statement: "If David Eby is so concerned about Kevin Falcon, who the Cullen Commission had no desire or reason to call as a witness, then it is clear he is shamefully politicizing this report."
The only reference to "falcon" in the 1,808-page Cullen Report is a comment regarding the illicit market for peregrine falcon eggs, Stone said.
Cullen stressed it's imperative the entire then-Liberal cabinet not be painted with the same brush and Stone said that's exactly what Eby is doing with his comments.
Article content
"Rather than accepting the conclusions from Justice Cullen, David Eby is cherry-picking from testimony for partisan spin," he said.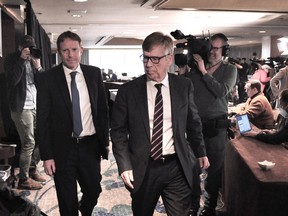 In an interview before Eby's comments, Stone dodged questions about whether the report will have political consequences for the Liberals in the 2024 election.
"There's no question we were not perfect when we were in government," he said.
The report found that money laundering in BC casinos was happening under the noses of several ministers responsible for gambling including Rich Coleman, Mike de Jong and Shirley Bond. Coleman was minister responsible for gambling on and off between 2001 and 2013. Mike de Jong took over the file in 2013 until 2017. Bond was responsible for gambling in 2011.
Article content
"Each of these ministers was privy, on some level, to information showing that the gaming industry was at elevated risk of money laundering," Cullen wrote.
He found that by 2010, Coleman, the minister responsible for gambling at the time, was aware of the concerns from the gaming policy and enforcement branch's investigation division and from police that the province's casinos were being used to launder the proceeds of crime.
However, Coleman was told by the BCLC that the province's gambling industry "had a strong and effective anti–money laundering regime."
Similarly, de Jong and Bond received information that casinos were likely to accept substantial quantities of illicit cash but this was met with assurances from the lottery corporation that this could be dealt with through existing anti-money-laundering schemes.
Article content
BC Liberal cabinet ministers took some actions to deal with the problem, Cullen found. Coleman launched an independent review of the industry's anti-money-laundering regime. Bond directed that nine of 10 recommendations from that review be immediately implemented.
De Jong spearheaded the creation of a new, gambling-focused law enforcement unit and directed BCLC to enhance its efforts to evaluate the source of funds used in cash buy-ins before those funds were accepted.
None of those actions, Cullen said, were sufficient to resolve the issue of dirty money flowing through casinos through much of the 2010s.
Speaking to reporters on Wednesday, de Jong said: "I think we are responsible. And I don't want to convey any attempt to shirk responsibility."
Article content
In 2014, the province's gambling sector accepted more than $1 billion in cash transactions of $10,000 or more and nearly $200 million in transactions were identified by the lottery corporation as "suspicious."
In 2015, BCLC reported over $183 million in suspicious transactions to Fintrac, the Financial Transactions and Reports Analysis Center of Canada. That same year, the BC Lottery Corporation convinced the federal serious and organized crime section of the RCMP to launch an investigation.
The report found that Fintrac failed in its oversight function and cannot be relied on by law enforcement to produce timely, useful intelligence about money laundering.
Cullen found the "actions of Mr. Coleman, Mr. de Jong, and Ms. Clark contributed, to some extent, to the growth and/or perpetuation of money laundering in British Columbia's gaming industry." I have cleared Bond and Eby of similar failings.
"While some could have done more, there is no evidence that any of the failures was motivated by corruption," Cullen said.
kderosa@postmedia.com
---
More news, fewer ads: Our in-depth journalism is possible thanks to the support of our subscribers. For just $3.50 per week, you can get unlimited, ad-lite access to The Vancouver Sun, The Province, National Post and 13 other Canadian news sites. Support us by subscribing today: The Vancouver Sun | The Province.