"Montreal and its partners will remain vigilant in the face of the evolution of the pandemic."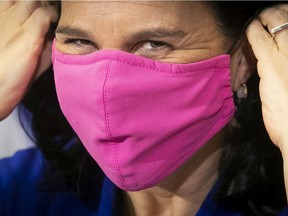 Article content
The city of Montreal has ended the state of emergency related to the COVID-19 pandemic.
Article content
This second state of emergency of the pandemic is no longer necessary, city hall said in a statement on Thursday. It cited the high rate of vaccination, the improved situation concerning COVID-19 cases and the Quebec government's intention to lift the provincial health emergency.
"Despite the lifting of the state of emergency, Montreal and its partners will remain vigilant in the face of the evolution of the pandemic and will closely monitor the situation," the administration said.
"If changes occur, the agglomeration will be ready to make the best decisions and actions."
However, Montreal's civil protection plan will remain in effect in "recovery mode," it said. "This will make it possible to maintain the coordination of instructions and regular communications on the health situation between public health, the city of Montreal and the (agglomeration's) civil security centre."
Article content
The administration of Mayor Valérie Plante first declared a state of emergency at the start of the pandemic in 2020 and let it expire in August 2021 because of the high vaccination rate and the implementation of the Quebec vaccine passport. It declared a state of emergency again in December.
It said the local state of emergency enabled Montreal to quickly procure protective equipment for the city's essential workers and prepare sites and facilities to serve as day centers, shelters and food stops for Montreal's unhoused population.
All our coronavirus-related news can be found at montrealgazette.com/tag/coronavirus.
For information on vaccines in Québec, tap here.
Sign up for our email newsletter dedicated to local COVID-19 coverage at montrealgazette.com/coronavirusnews.
Help support our local journalism by subscribing to the Montreal Gazette.