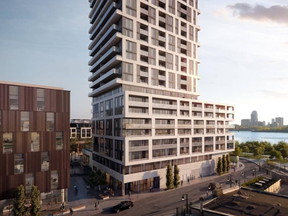 Reviews and recommendations are unbiased and products are independently selected. Postmedia may earn an affiliate commission from purchases made through links on this page.
Article content
What would it mean to develop a community with socially conscious policies from the get-go?
Article content
That's exactly what Zibi, the 34-acre master-planned community bordering the Ottawa River, hopes to accomplish. Begun in 2013, and now being developed by Dream Unlimited Corp and Dream Impact Trust, the waterfront city that straddles Ottawa and Gatineau Quebec will serve around 5,000 new residents with condo towers, public squares, and retail plazas – and of course, waterfront.
Even more exciting – there will be the world's first interprovincial zipline where daring souls can fly across the river literally – on a prayer and a wire.
Now the first residential tower, Block 206, will provide 25-storeys of rental housing for a variety of income levels. The first two floors of the building will contain 45 affordable housing units, managed by Ottawa Community Housing.
Article content
"This is a building that truly is created with community and social equity in mind," says Sean Lawrence, a partner at Kohn Partnership Architects who designed the building along with Teeple Architects.
In addition, Zibi hopes to minimize the housing crisis by providing two floors of co-living units – where people can rent a single furnished room within a larger suite. "The co-living units usually contain 5-bedrooms and are around 1500 square feet," says Lawrence.
"They're larger to accommodate the requirements of a co-living situation. From there, the units generally start at a one bedroom at around 500 square feet." The remaining 140 units will be priced as full, market-value rentals.
Zibi partnered with Common Coliving – a US-based organization that helps match individuals with individual furnished rooms in rental spaces with shared kitchens and common areas… It's sort of like Airbnb for renters. There will also be four fully adaptable and accessible units for disabled residents including features such as adjustable counter heights.
Article content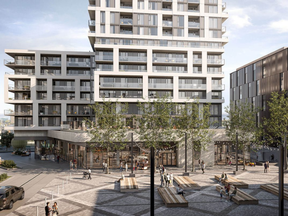 Built on an industrial site of a paper mill, Zibi is framed by the Portage Bridge and Waterfront Quarter to the east and Chaudière Crossing and Albert Island to the west. But it is the environmental framework that really makes this project unprecedented. The development took on the One Planet Living guidelines for design – a list of 10 principles created by Bioregional and the World Wildlife Fund. These detail everything from requiring that landscapers include edible vegetation to the elimination of GHG-emitting energy sources. In fact, Zibi must guarantee that 50 percent of the plants in the garden produce fruits and/or vegetables.
"The Zibi project is centered around achieving higher standards of sustainability – in the environment and the community," says Justin Robitaille, VP, development at Dream Asset Management. "We have a wide mix of housing available in our zero-carbon development for all levels of income, several parks and plazas, and lots of energy-efficient features embedded in our design. It's a master-planned community that is designed to offer residents an urban lifestyle while lightening their environmental footprint."
Article content
Block 206 delivers on its sustainability promise with its zero carbon heating and cooling systems, a result of the regions first zero-carbon District Energy System – one which relies on using post-industrial waste energy for heating – and the Ottawa River for cooling. It will be the first time a development in Canada uses post-industrial effluent energy in a master-planned community.
"There are all kinds of different sustainability elements spread throughout the project," says Lawrence. "And it's the first time we have ever worked with a client that seriously asks us where the materials come from." While Lawrence says that the initial costs of the project are larger than a normal development, ultimately Block 206 of Zibi is cost-effective in the long-run. "It's about investing more money upfront so that the building runs more efficiently and ultimately consumes less energy," he says.
Article content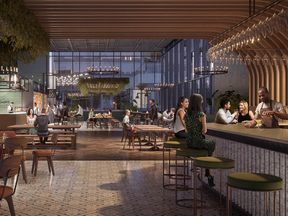 The top floor of the building contains a series of amenity spaces, including plenty of outdoor space and several co-working spaces. "Since Covid, it's become critical to design a variety of lounges and terraces for those who maybe have to continue to work from home," says Lawrence. "Block 206 pays attention to that with amenities and outdoor space to accommodate people working from home – whether they need to hold a meeting or cocoon themselves in the corner of an office-type space." There will also be ground floor retail, a gym, an outdoor roof terrace, a bbq space and dining lounge, a kitchen space, party room, cinema, and billiards room.
Throughout the building, Kohn also chose to keep remnants from the site's former industrial past. Sculptural in nature, an old pulper stands as a testimony to the site's history and legacy. "It's a way of paying homage to the past, to the history of the site and its people," says Lawrence. "That meant keeping some of the elements of the factory's industrial heritage – rather than just discarding them."
Article content
Next to Block 206 will be Block 207, a new building that will incorporate elements of the former industrial buildings on the site, will house commercial, retail and office space for those living in the area. The building will also serve as an entryway to Head street. Both buildings will be outfitted with an oversupply of bike parking as a further expression of the development's commitment to eco-friendly travel choices. Those who still drive vehicles however will still have parking space – and electric vehicle charging stations. Close proximity to the LRT system is also steps away.
"Architecture has changed over the years," explains Lawrence. "Before, it used to be that we would go out and 'conquer' the environment. Now the architecture serves the landscape. It's just a completely different way of designing."