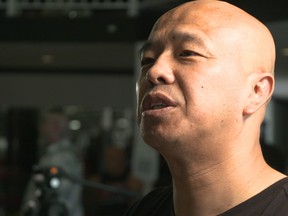 Article content
The Cullen Commission report on money laundering praised the work of a policing unit within the Combined Forces Special Enforcement Unit that arrested several people in 2017 in a major investigation into illegal gambling and money laundering.
Article content
The work by CFSEU's joint illegal gaming investigation team was described in Cullen's report, released Wednesday, as a "groundbreaking investigation into a sophisticated money-laundering operation."
But five years after the arrest of alleged money launderer Paul King Jin and others in the investigation dubbed E-Nationalize, no charges have been approved by the BC Prosecution Service.
Service spokesman Dan McLaughlin said Thursday that "no final decision has been made regarding charge assessment on the E-Nationalize file. We don't have a time frame for a decision at this point."
And he said he would not comment on why it is taking so long to reach a decision on charges. The CFSEU ​​submitted its report to Crown counsel in the case more than three years ago.
Article content
"The BCPS will not comment on the investigation or the circumstances of the charge assessment process while the matter is under review," McLaughlin said.
Jin was also one of the targets of the RCMP's E-Pirate investigation, which was the largest money laundering probe in BC, but federal prosecutors stayed all charges against two accused in late 2018. Jin was never charged.
Commissioner Austin Cullen criticized the RCMP repeatedly in his 1,800-page report for ignoring money laundering in BC casinos and elsewhere over the past decade.
"The RCMP's lack of attention to money laundering has allowed for the unchecked growth of money laundering since at least 2012," Cullen said. "Law enforcement bodies must make better efforts to follow the money and pursue money laundering and proceeds of crime charges."
Article content
Cullen is recommending the creation of a new anti-money-laundering unit within CFSEU ​​to investigate and gather intelligence on the financial dealings of organized crime in BC
"I am persuaded that the investigation of sophisticated money laundering activity by a specialized, multidisciplinary team has the potential to significantly disrupt organized crime activity in this province and that the new provincial unit will make substantial progress in the fight against money laundering if it is properly structured and resourced," he said.
Keeping it under CFSEU ​​would allow for more provincial control, he said, adding that it would have to be properly funded by the BC government.
Irwin Cohen, director of the center for public safety and criminal justice research at the University of the Fraser Valley, said Cullen's recommendation to have the new investigative unit within CFSEU ​​makes sense.
Article content
"Given the mandate and scope of CFSEU-BC, I think that it is a good idea to either have this new unit housed within CFSEU-BC or deeply integrated with its people and data analysts," he said.
"I think that it remains important for the RCMP and other agencies to be vigilant and devote the necessary human, financial and technological resources to combat and address money laundering and developing a dedicated, well staffed, resourced, trained, and integrated unit mandated specifically to address money laundering is long overdue."
CFSEU ​​declined to comment on the Cullen recommendation Thursday.
And the BC head of the RCMP, Deputy Commissioner Dwayne McDonald, said in a statement that he did not get an advance copy of the lengthy report and needs time to read it and review the findings.
Article content
"Our review will be mindful of any ongoing investigations underway in addition to the enhanced programs, advances in investigative practices and processes, specialized training, and the development of new collaborative working groups that have been implemented over the years, and since last year, to address the complexities of money laundering," he said, adding that the RCMP "fully participated during the proceedings and supported the commission's work and mandate."
McDonald also stressed the RCMP's commitment to investigating money laundering, adding: "To be effective, the prevention, detection, and disruption of money laundering requires a collective effort."
kbolan@postmedia.com