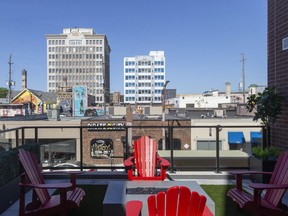 Article content
When first proposed five years ago, some questioned the wisdom of any private developer embarking on construction of a hip new luxury residential building for Windsor's downtown.
Article content
But the risk appears to have paid off, and half the 24 high-end units at The Hive were already leased ahead of Thursday's official opening of the five-storey building at 531 Pelissier St.
"It's definitely Windsor's time to shine," said Brent Klundert, vice-president of BK Cornerstone Design-Build Ltd., one of the owners of a modern property that has risen out of the long-blighted former home of Don Cherry's night club.
"We wanted something a little different. What we created is something comparable to downtown Toronto," Klundert told the Star.
The Hive, with a distinctive loft-style industrial look, boasts its own gym for residents, a second-floor open terrace overlooking Pelissier Street and Maiden Lane, and front-door access to an urban farmers market.
Article content
What helped make the first new downtown residential build in decades possible was becoming the first successful applicant for a municipal grant under the community improvement plan (CIP), set up by city council to spur residential growth in the struggling core.
The CIP, which offers property tax holidays for targeted developments at no cost to existing taxpayers, is responsible for a number of other residential projects aimed at boosting urban population numbers.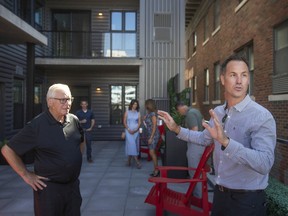 The Hive's principle developers, which include Philip Fernandes Designs, and Distinctive Homes & Real Estate Brokerage Ltd., used Thursday's ribbon cutting with Mayor Drew Dilkens to announce their next big project — a six-storey, 68-unit condo development to be built just doors away at the corner of Pelissier and Wyandotte Street West.
Article content
"We're taking a lot of the same notes, a lot of the same styling and architectural cues as here (The Hive)," said Klundert, adding that next development, with a targeted 2023 construction start and 2025 completion, has already received CIP approval from city hall.
"The downtown core today is a different place than what it was," said Klundert. "We think we just need to continue spurring more residents to the downtown."
Coinciding with this Saturday's Downtown Farmers Market, The Hive will open its doors from 9 am for public tours. Lease prices for the remaining one- and two-bedroom units range from $1,800 to $2,800 a month.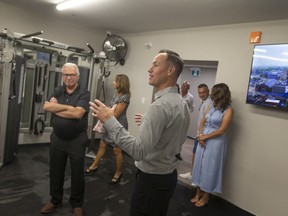 The ground floor is commercial space, and a third of that space has already been leased. Klundert said the owners have been "blown away" by the early interest shown, including having half the units scooped up even before construction was completed.
Article content
Compared to the best of what was already on offer in the downtown residential market, "we're a little bit nicer," he said.
'The Hive on Pelissier' will soon be abuzz with construction activity

Council eyes $679K in incentives to spur downtown, Ford City projects

City incentives, 'red-hot' real estate market fuel action on brownfields
"The resurgence of the downtown core area has been amazing. Our tenants are a mix of young professionals and 'downtown believers' who are excited to be part of Windsor's comeback," said Klundert.
"It is so exciting and rewarding to see our vision come to reality," designers Philip and Amanda Fernandes said in a statement. "We worked hard to develop and deliver a building that complements and enhances the existing architecture on Pelissier."
dschmidt@postmedia.com