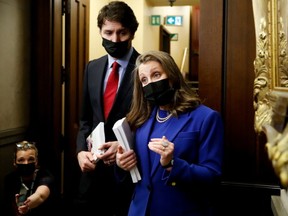 Article content
Chrystia Freeland's new affordability plan is the same as the old plan.
Article content
With inflation hitting levels not seen in more than 30 years, the Trudeau government has been under pressure to do something, thus their "new" $8.9 billion "Affordability Plan."
Despite the new packaging and the sales job Freeland did during a speech to the Empire Club on Thursday, this plan is simply a repackaging of measures announced over the last two federal budgets. Nothing actually new other than the spin on what they were already planning.
"Because of investments we have already made in the last two federal budgets, a new set of measures is coming into force right now to help the Canadians who need it most," Freeland told the business lunch audience.
It's not as if the suite of measures is nothing, but they are targeted programs. They won't help everyone or actually cut inflation. They will simply give some people more money to cope with rising prices. This includes increases to the Canada Workers Benefit, a boost in Old Age Security payments for people over 75 only, a one-time $500 payment to help struggling renters, a new dental care program and, of course, the implementation of their $10-a -day child care plan.
Article content
It's a better answer than they've been offering up over the past several months, but the problem is still the same. Since inflation began skyrocketing last summer, the Liberal answer has been to put forward their plan to cut child care fees. That's great if you have children in that age bracket but it does nothing for people with older kids, no kids, seniors or single people.
It's the same with all of these programs, which, by the way, come with a heavy price tag.
The Parliamentary Budget Office released a report Thursday saying the cost of the dental care program would be closer to $9 billion instead of the $5.3 billion the government has budgeted for implementation. That program to help families with a combined income under $90,000 a year is one of the key demands in the agreement with the NDP to keep the Liberals in power.
Article content
Nice as it is, and nice as the child care program is, none of this will lower the price of gas or groceries, or make a home or apartment more affordable.
Freeland made it clear that the government continues to see inflation as a global problem and not a made in Canada problem. The government maintains the COVID-19 pandemic, the impact of China's COVID Zero policies on supply chains and Russia's invasion of Ukraine are the real culprits.
Those are all factors, anyone claiming otherwise is lying to you as much as someone who claims there are no domestic policies pushing inflation higher. We have both international and domestic factors contributing to inflation, something that Freeland alluded to in her speech.
She pointed to the fiscal restraint in her budget as part of the longer-term solution.
Article content
"This fiscal restraint was very intentional," Freeland said. "At a time when inflation was elevated, we knew we needed to be careful not to increase aggregate demand."
In her April budget, Freeland tabled a budget that projected spending of $452 billion. That is still $97 billion more than the 2019 pre-COVID budget even after Freeland cut $176 billion in pandemic spending.
Government spending is a contributing factor for inflation in this country, the Trudeau Liberals are belated admitting it.
Last summer, Trudeau shrugged and smiled when asked about his government's plan for dealing with inflation saying he didn't think about it much. Then his government claimed it was temporary. Now they are claiming to do something about it with programs announced months ago, some of which won't kick in for months.
It isn't what Canadians need but at least they are finally seeing there is a problem.
blilley@postmedia.com