Loyola has hired its first female president to pave the wave for girls to enter the 125-year-old high school.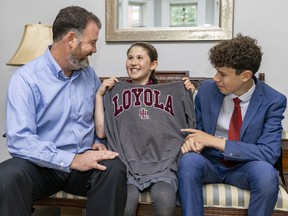 Article content
Although she's just 10 years old, Emily Noble always feels at home when she visits Loyola High School, the all-boys secondary school in Notre-Dame-de-Grâce.
Article content
The private Jesuit school has educated four generations of her family — from her older brother Noah to her great-grandfathers back in the 1910s and 1920s.
During a visit in 2016, when her grandfather Paul Cambell Noble was inducted into Loyola's Hall of Merit, Emily saw class pictures of her uncles and other male relatives that adorn the walls throughout the 125-year-old school.
"She was running through the hallways saying: 'Dad, It's so fun here. It's great, but I only see boys on the wall. Can I go here, too?" her father, Mark Noble, recalled.
Back then, the answer was a definitive no.
But unknownst to Noble, the Jesuits of Canada and the Loyola board of governors had already been musing about admitting girls.
A declining birth rate in Quebec and English eligibility rules would lead to enrollment issues going forward, but as women took on more leadership roles in society, the school believed it was time to offer girls a Jesuit education as well.
Article content
About one-third of Jesuit schools in the US have become coed and three of five Jesuit schools in Canada have already made the change.
After lengthy discussions with its close-knit alumni, teachers, the mothers' guild and parents, Loyola announced last month it will admit the first cohort of girls in Secondary 1 in the 2023-2024 academic year.
"When we got wind of it two years ago, it was such a relief that the choice (of high school) was made for us," Noble recalled in an interview.
"My cousins ​​and brothers are elated with the idea." Emily's grandfather, who passed away in March, also thought it was a "great idea."
Noble said he always felt that Loyola differed from other high schools because it isn't solely focused on academics. Its Jesuit, Catholic education focuses on developing the whole person. By the time they graduated from Loyola, many students are intellectually curious, compassionate and committed to building a better community, Noble said.
Article content
"While the core mission of Loyola has remained the same since its founding, the culture and experience of our students has consistently changed from one generation to the next, and we must ensure that we keep updating our pedagogical approach for the times," the school said in a statement.
The school has applied to the Quebec education department for a permit to open a French section in 2025 and is planning a fundraising campaign to update its athletic facilities. At present, Loyola has 690 students. The school gives out about $750,000 in bursaries each year.
To implement Loyola's new mission, the Jesuits began looking for a leader who could usher in a new era and open the door to young women.
Marcelle De Freitas was working at the University of Toronto in 2020 when a colleague asked whether she knew anyone interested in a leadership position at a Jesuit high school in Montreal.
Article content
She thought briefly about whether she knew anyone who would fancy a move to Montreal and then wondered if the posting was something she should explore.
She made a cold call to Adam Pittman, a Jesuit who works at the school, and they chatted for about an hour. Pittman suggested she contact the chair of the school's board of governors. A few months later, she was hired as Loyola's first female president.
In an interview with the Gazette, DeFreitas said the rationale for teaching boys and girls separately no longer holds true.
"Looking back in history, there was a time when the men educated men to be business and community leaders," she said. "Society has shifted, and we see women in leadership frequently now. It's a coed world."
Article content
During chats with DeFreitas about the upcoming changes, some current students wondered whether the girls would sit with them in the cafeteria, attend school dances or understand their humor.
One student expressed concern that some girls may not appreciate the roughhousing or teasing that some of the boys engage in.
"Are girls going to find it funny the way we joke and make comments to each other?" one student asked.
Many said they would welcome girls and others suggested the school would need to hire more female teachers to make the girls comfortable.
As a Loyola teacher and president of the school's alumni association, Chris Hain has heard from many current and former students about the school's change of direction.
Article content
"There was a mixed response. Some, like me, were excited because I have a niece who will be coming here," Hain said.
"But others were trepidatious. It's a testament about how protective they are about the school and what they experienced. When you go to school during your formative years, you want to preserve that special place that made you into the person you are."
The school will hold an open house Sept. 17 for students and parents. Student with English-language eligibility, regardless of gender, background or religious belief can apply.
Apart from signing up for music and art classes, Emily said she's thrilled that she will be the first girl in her family to apply to Loyola.
"My dad always told me his brothers went there and his dad went there," she said. "It feels like a tradition, so I feel like going too."
kwilton@postmedia.com
Sign up for our new parenting newsletter at montrealgazette.com/newsletters.
Loyola High School: A close-knit community

Beloved Loyola teacher Sean Ryan dies after battle with brain tumor