"There were lots of ways he could have gotten guns in Renfrew County."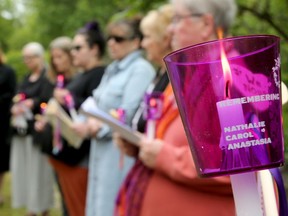 Article content
Police have never learned where triple murderer Basil Borutski obtained the 12-gauge shotgun he used to kill two of his three victims on Sept. 22, 2015.
Article content
Borutski strangled Carol Culleton at her cottage near Combermere. He took Culleton's car and drove to Wilno, where he shot and killed Anastasia Kuzyk. Then he drove to Foymount Road, where he shot and killed Nathalie Warmerdam.
Borutski, who had been convicted of domestic violence against both Kuzyk and Warmerdam, had twice been prohibited from owning guns, an inquest into the murders of the three women heard on Thursday in Pembroke.
A judge can issue a prohibited order with a maximum of 10 years. In certain cases, such as criminal harassment, there is also a mandatory prohibition that covers all firearms for life, Matt Storey, an officer with the Chief Firearms Office of Ontario, told the inquest.
A judge handed Borutski the first type of prohibition in 2012. He received a lifetime prohibition in 2014, but continued to carry a firearms possession and acquisition license in his wallet.
Article content
Although the license was revoked in 2012, his card was not seized by police because that specific order was not made by the court, said Storey, who is also an Ontario Provincial Police officer.
One way Borutski could have acquired a gun in 2015 was simply by presenting the possession and acquisition license, known as a PAL, to a private seller.
As it stands today, a business that sells guns can swipe or enter the PAL card information, which comes out "not valid" if there is a red flag, the inquest heard. As of May 18, under new federal legislation, all sales of firearms, whether through a business or person-to-person, require verification to confirm that both the buyer and the seller have licenses.
In order to acquire a PAL, an applicant must take and pass a course on safe gun handling. The application asks a number of questions and for a personal history, including the name of spouses and ex-spouses. An application could raise a number of red flags, Storey said. A PAL can be reviewed or revoked immediately over issues including certain criminal charges or if a suspect is apprehended under the Mental Health Act.
Article content
Borutski sought and received a renewal of his PAL in 2012, not wanting to let it expire pending the outcome of charges he was facing in court. At the time, licenses were typically returned if charges were stayed or withdrawn, Storey told the inquest.
Storey said that, when he was appointed to the firearms office, he took it upon himself to revoke and refuse more licenses because of red flags.
"The Firearms Act allows us to revoke or refuse those licences. We're determined we're going to do this in a more proactive fashion," he said.
The inquiry has been tasked with finding ways to prevent domestic violence and deaths in rural communities. Previous witnesses have touched on the issues around gun ownership.
Deborah Kasdorff, former manager of the Victim/Witness Assistance Program in Renfrew County, said she would often learn of concerns about guns during the bail process when asking victims about the presence of firearms in the house, the number of guns and where they were located .
Article content
"It's not unusual for a woman to say, 'I'll bet you within five minutes of calling 911, he had somebody get those guns out of the house to his friend or a neighbor down the road or somewhere.' That's good information for us to have," she told the inquest.
Sometimes a victim or survivor will report that the accused is bringing a person forward as a bail surety who is hiding guns for the accused, Kasdorff said. "We can provide that information to the Crown attorney."
The inquest heard from Warmerdam's daughter, Valerie, that her mother signed as a surety for Borutski's bail conditions, which included that he could not have firearms, when he moved into the Warmerdam house. Her mother de ella took the firearms safety course in part so guns that had been in Borutski's family for generations would not be destroyed, Valerie told the inquest.
Article content
On Tuesday, the inquest heard that police were concerned about guns in the house and expressed those concerns to Warmerdam, who assured police the guns would be locked in a safe with a chain and additional padlock. When new charges were laid against Borutski, Warmerdam arranged with police to seize the guns while he was in custody.
Borutski was also prohibited from possessing ammunition. Valerie told the inquest he said he was cleaning out cars in a friend's junkyard and found shotgun shells under the seats of vehicles.
"And the reality is in Renfrew County, that's very believable. You clean out 50 cars and the odds of finding some caliber or type of bullet rolled under seats or sitting in the ashtrays or whatever is quite reasonably believable," she said.
Article content
"There were lots of ways he could have gotten guns in Renfrew County."
Storey offered the inquest some thoughts about what he would like to see to help prevent domestic violence deaths using firearms. The long-gun registry was abolished about a decade ago. If it still existed, police might have been able to trace the gun Borutski used in the murders.
"After the long gun registry, obviously you didn't have to register your firearms legally, so there was no real verification of licenses because nothing came through our office," he said. "So, if I had a license, and you had a license, I could sell you that firearm and our office wouldn't know any difference."
Meanwhile, courts have overturned decisions made by the firearms office to revoke licences. Storey would like to see court officials such as Crown attorneys and judges become more familiar with the Firearms Act.
COVID-19 backlogs in the courts also mean firearms cases are being thrown out, along with intimate partner violence cases, Storey said.
"The charges are going away and they're being given their firearms back. Then it comes back to us where we have to try to make that decision now that it's gone through court and try to determine whether that person should still have firearms or not," he said.
"And then our decisions are being appealed and actually overturned. And allowing those people to have firearms again."