Melody Ayoungman-Hunt wishes the death of her eldest son Kristian was just a 'horrible dream'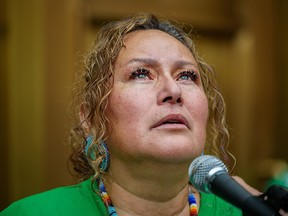 Article content
Melody Ayoungman-Hunt regularly wishes the harsh reality of her eldest son's slaying at the hands of a Strathmore man was just a "horrible dream."
Article content
But Ayoungman-Hunt said Thursday those wishes are quickly dashed by the realization Kristian Ayoungman is no longer with her.
And the still-grieving mother had one question for the man who used a high-powered hunting rifle to kill her son. why?
"Because of you taking a precious life, our precious boy's life, I am left… wondering why? How could you do this? Ayoungman-Hunt asked convicted killer Brandon Giffen.
"What did my boy ever do to you?"
Giffen was convicted of manslaughter last July in connection with the March 17, 2019, shooting death of Ayoungman, 24.
The victim and three friends had been chased out of Strathmore by Giffen and his brother Cody after an altercation outside the offender's Strathmore apartment complex.
Article content
When Giffen emerged from his apartment, Ayoungman's groups fled, only to be followed through the town and then southbound on Hwy 817.
With the fleeing vehicle at least 150 meters away, Giffen asked his brother to pull over where he got out and fired a single shot at the pickup truck in which Ayoungman was a passenger.
Crown prosecutor Ron Simenik told Justice Robert Hall that Giffen's actions warranted a stiff punishment. Simenik suggested a 14-year prison term, minus credit for the custody the shooter has already done, would be appropriate.
But defense lawyer Derek Jugnauth argued for a sentence of half that amount and noted his client's punishment should be reduced by more than five years for his so-called dead time and the isolation COVID-19 has made his time on remand.
Article content
Jugnauth noted Giffen hasn't been able to see his two children and their mother for more than two years because of the pandemic lockdown at remand.
The lawyer also noted Hall should credit Giffen for a guilty plea, noting his client was prepared to plead guilty to manslaughter more than a year before he stood trial for first-degree murder.
The dead man's mother said regardless of the sentence hers and her family's pain will continue.
"Physically we are drained, wishing every day this was only a horrible dream, but instead this is real and we're left dealing with losing a child," she said.
Before Hall adjourned to next month for his sentencing decision, Giffen addressed court.
"There's not a day that goes by that I don't think about my actions," he said.
"I am deeply and truly sorry to you and your family for the hurt I couldn't even imagine you went through and will forever have to go through."
He remains in custody pending Hall's ruling.
KMartin@postmedia.com
On Twitter: @KMartinCourts