'We're recognizing this is a jewel within the city. Having public access along the river is so important, we want to make sure that we do it right'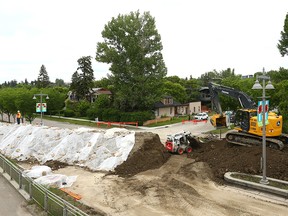 Article content
A temporary flood berm constructed across Calgary's Memorial Drive would not have been needed if upgrades to the existing Sunnyside flood barrier had already been completed, city officials say.
Article content
The 88-meter clay wall across Memorial Drive near 3rd Street NW closed the major roadway between 10th Street NW and Edmonton Trail NE starting Tuesday. Two lanes of the road are set to partially reopen by Friday morning, as crews remove a small portion of the berm that could be rebuilt if flood risk returns next week.
The temporary barrier, which cost $115,000 to construct over the course of 18 hours, was necessary because upgrades to the existing berm haven't been finished, according to Calgary water services director Francois Bouchart.
"We totally recognize that putting in that temporary barrier is an inconvenience not only to residents of Sunnyside-Hillhurst but to Calgarians that use Memorial Drive on a regular basis," Bouchart told Postmedia on Thursday.
Article content
"This is not the final solution. This is a short-term solution while we work toward that final solution."
Area residents say the temporary structure shows how urgently upgrades to Sunnyside's permanent flood barrier are needed.
That includes Charlie Lund, a volunteer on the Hillhurst Sunnyside Community Association's flood committee. His home was among those flooded in 2013 and he's since lobbied for city actions to mitigate future flood risk.
Among those requests has been bolstering the existing Sunnyside flood barrier so it can protect against more severe flooding.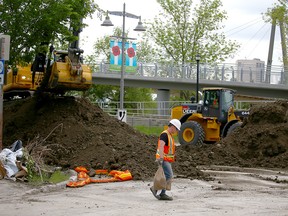 The barrier, which runs along the north bank of the Bow River along Memorial Drive from 14th Street NW to Center Street N., currently protects against one-in-20-year flood events. City council approved plans in 2020 to heighten that barrier to withstand one-in-100-year floods.
Article content
But delays in the design and community consultation process pushed back construction, which is now set to begin in 2023 with completion for the 2025 flood season.
"It has been taking a very long time to construct, and that's led to some frustration," Lund said.
"From where we are now, you can look back and say, 'Gee, it's unfortunate we've had all these years of delay.' Looking back, it's kind of ridiculous all the delay we've had. But we are where we are and, looking forward, to 2025 completion from where we are today is not bad.
"That's what (the city) has committed to, and we're not conceding anything."
Original design plans for the upgraded berms took a utilitarian approach, focusing almost singularly on heightening the flood walls. A revised design process following some community pushback aims to integrate the project more with existing community infrastructure, such as walking and cycling pathways and poplar trees commemorating fallen soldiers.
Article content
"We're recognizing this is a jewel within the city. Having public access along the river is so important, we want to make sure that we do it right," Bouchart said.
"It's really important for us to not just build the berm but also look at what the principles and what the mission is for the area, and incorporate that into our design of the berm. . . . That's why we've taken a pause in the work."
The Sunnyside flood barrier upgrade is slated to cost $32 million, Bouchart said.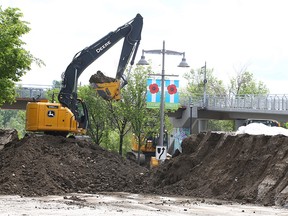 Lund acknowledged several other necessary steps for mitigating flood risk in Sunnyside have been taken over the past nine years. Those include work on the Ghost Reservoir, upgrades to the Sunnyside sanitary lift station and ongoing construction for the Upper Plateau separation project, which is designed to mitigate water flow from uphill.
Sunnyside resident Mike Bradfield, also involved with the community association's flood committee, said he was glad to see the city act to build the temporary berm, but said it represented what he characterized as an unacceptably long process to increase the height of the existing flood barrier .
"It's a symbol of failure," Bradfield told Postmedia earlier this week.
jherring@postmedia.com
Twitter: @jasonfherring