In BC, ticks are most often found on Vancouver Island, the Gulf Islands, the Sunshine Coast and the Lower Mainland.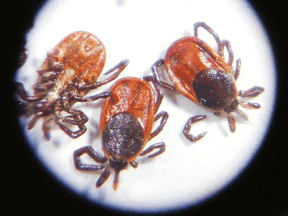 Article content
Earlier this week the open — access journal BMJ Global Health reported that 14 per cent of the world's population has, or has had, tick-borne Lyme disease.
Article content
According to the report, Lyme disease is becoming increasingly prevalent globally and while widely distributed receives little attention worldwide.
Here's five things to know about ticks and Lyme disease in BC
1- It's getting worse in Canada
The prevalence of ticks that can carry Lyme disease is expected to be higher than ever in much of Canada this year, researchers say.
According to Vett Lloyd, of the Lloyd Tick Lab at Mount Allison University in New Brunswick, as the impacts of climate change progress, each tick season will likely be worse than the last.
"As the winters are getting milder and shorter, the ticks are surviving better, and they have more time to feed and have a tick romance," Lloyd said.
"Once a female tick finds a male and food, she can produce roughly 3,000 eggs. When this starts happening, (the population) explodes very quickly."
Article content
Cases of Lyme disease increased in Canada by 150 per cent between 2020 and 2021, with 2,900 cases reported in 2021. This tally is considered low because many cases are unreported.
2- What is Lyme disease and what are the symptoms?
Lyme disease is a bacterial infection spread by tick bites. Ticks travel on birds and other animals and live in the forest and in tall grass. They are black or brown but when engorged after feeding turn a blue-grey color
Ticks are usually found on pets or in people's hair or on limbs after spending time outside near long grass, where ticks spend their time.
The most common sign of Lyme disease is an expanding skin rash that begins at the site of the bite. Early symptoms include fever, chills, fatigue and headache. If left untreated it can spread to the joints, heart and nervous system.
Article content
Lyme disease can be identified by laboratory blood tests and treated with antibiotics if caught early. Between 10 and 20 per cent of infected people have long-lasting symptoms.
3 — When do I need to be concerned?
Ticks are active in Canada from late April until June and then typically rest through the hottest weather. Tick ​​presence then peaks from September through to November.
Not all ticks carry the Lyme disease bacteria, but black-legged deer ticks are most likely to be infected. According to the BC Center of Disease Control, around one per cent of ticks carry the disease here. Given there can be millions of ticks, the chance of getting bitten by an infected insect is quite possible.
By comparison, a 2019 University of Ottawa study found that one-third of black-legged ticks in the Ottawa region were carrying Lyme disease.
Article content
4- How can I avoid Lyme disease
Avoiding Lyme disease and looking cool do not go hand in hand. The No. 1 way to prevent a tick bite is to wear long pants, with tall socks, with the pants tucked into those socks.
Also spraying a strong insect repellent containing DEET and checking your body after being outdoors are important.
Walk in cleared areas where possible and wear light-coloured clothes so ticks can be seen.
Removing a tick can be tricky, especially if it has had time to dig into the skin.
Use tweezers to grab the tick as close to the skin as possible and then lift it off without squeezing too tight.
The tick can then be taken to a physician who will send it to the BCCDC for examination. The site etick.ca is a helpful resource.
Article content
5 — Where has it spread in BC
According to the BC Center for Disease Control, the rate of Lyme disease here is lower than the rest of Canada — where it is worst in Nova Scotia followed by Ontario.
The Canadian Veterinary Association says on its website that ticks are expanding their range across Canada.
In BC, ticks are most often found on Vancouver Island, the Gulf Islands, the Sunshine Coast and the Lower Mainland.
dcarrigg@postmedia.com
---
More news, fewer ads: Our in-depth journalism is possible thanks to the support of our subscribers. For just $3.50 per week, you can get unlimited, ad-lite access to The Vancouver Sun, The Province, National Post and 13 other Canadian news sites. Support us by subscribing today: The Vancouver Sun | The Province.