"There are a lot of infections out there, but luckily people struggle less with it."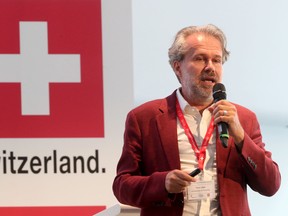 Article content
There's every reason to expect that Ontario will continue to see waves of COVID-19 every three to four months, and it could be a year or two before the virus becomes endemic like the seasonal flu, says Dr. Peter Juni, former scientific director of the province's COVID-19 science advisory table.
Article content
However, that prediction is not as grim as it sounds.
The waves might also be wavelets and the population is better prepared to withstand them, June told a scientific conference in Ottawa on Thursday.
Like everything else in the pandemic, there are no certainties.
But the province should prepare for waves of infection every 90 to 120 days, June told the Science Diplomacy in the Exponential Age conference sponsored by the Swiss embassy.
How serious the waves are will depend partly on whether they are fueled by Omicron variants or a new variant that is "fully disruptive," Juni said.
However, Ontarians have also built up a wall of immunity through a combination of vaccination and widespread infection during the Omicron wave.
Article content
"And this changes the face of the pandemic," Juni said in an interview after his keynote speech.
People who have had three of either vaccinations or infections, or some combination, are much less likely to be seriously ill or die from COVID-19, he said.
"They have 50 times less risk of ending up in the hospital, of ending up in the ICU. We have so much immunity compared to the beginning (of the pandemic). It's just worlds apart."
June estimated there are still 20,000 to 25,000 new COVID-19 infections in Ontario every day, which is higher than at most points during the pandemic that began in early 2020.
"There are a lot of infections out there, but luckily people struggle less with it."
In fact, an estimated 70 per cent of Ontarians who contract the virus display no symptoms, he said.
Article content
June estimated it could be one or two years before COVID-19 waves recede and the disease reaches an endemic state, when infection is maintained at a baseline level.
The infection fatality ratio of COVID-19 — the proportion of people infected who die — has dropped since the pandemic began and is now similar to the ratio for influenza, Juni said during the talk.
In the interview, Juni said he was comfortable with current public-health rules in Ontario, including the removal of mandatory masking in indoor public places.
Ottawa Public Health still recommends that people wear masks in indoor and/or crowded public spaces.
Public-health measures may need to change in the fall as people move indoors, depending on the COVID-19 situation, Juni said.
Article content
During Thursday's event at the Ottawa Art Gallery, attended by about 50 people, most of them working in the science policy field, Juni was virtually the only person wearing a mask. He only removed it to eat and to give his speech from him.
"The reason I still wear a mask is because, first of all, I still don't want to contribute to the chain of transmission, because there are vulnerable people out there," he said in the interview.
"And we don't know enough yet about the risk of long COVID. It's safe to assume that it's reduced with vaccination, but, for somebody like me, should I risk getting brain fog?
"Something as simple as a mask, that I can wear relatively flexibly when I go inside… Why would I not do that if I know that we know about the amount of infection (in the community)?"
Juni left his position with the Ontario COVID-19 science advisory table in May to take a position at the University of Oxford, saying he wanted to be closer to his family in Europe.
jmiller@postmedia.com