QB Trever Harris replaces an ineffective Vernon Adams Jr. in the second quarter of a 20-19 loss to the Argonauts in Toronto.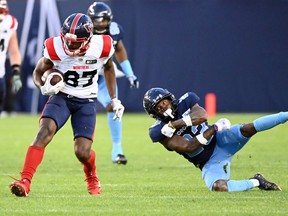 Article content
TORONTO — It might be early in the season, but there's already a quarterback controversy on the Alouettes.
Article content
Head coach Khari Jones replaced starter Vernon Adams Jr. with veteran Trevor Harris with less than 10 minutes remaining in the second quarter. Harris, the 36-year-old veteran, did his best to rally the Als, but David Côté missed a 21-yard field goal in the final seconds and the Toronto Argonauts held on for a 20-19 victory Thursday night before 12,498 spectators at BMO Field.
The Als scored only one touchdown — a one-yard run by third-string quarterback Dominique Davis at 9:14 of the fourth quarter. Côté kicked four field goals before his critical miss.
Montreal lost its second consecutive game, although the defeats have been by a cumulative four points.
The Argos also scored only one touchdown, McLeod Bethel-Thompson passing 15 yards to Brandon Banks.
Article content
The Argos methodically moved the ball down the field on their opening possession, although it appeared the Als caught a break when Mike Jones intercepted a pass intended for Cam Phillips in the end zone. However, following a video review, it was determined he dropped the potential turnover, setting up Bede's 17-yard field goal at 6:08 to open the scoring.
Montreal was burned a second time by an officiating call later in the quarter. Darius Williams intercepted a pass that deflected off DaVaris Daniels, returning it 52 yards for a touchdown. But another review determined Williams was down by contact.
Nonetheless, the Als produced their first points on Côté's 43-yard field goal at 12:53.
John Haggerty's 64-yard punt single on the final play of the quarter gave Toronto a 4-3 lead.
Article content
Montreal had one first down in the quarter along with 17 net yards of offense.
Als middle-linebacker Tre Watson was disqualified early in the second quarter — along with Toronto offensive-tackle Dejon Allen — after he stepped on the player's chest. Watson was replaced by second-year Canadian Brian Harelimina.
It was on the next Montreal possession that Jones replaced Adams with Harris. It undoubtedly was a decision that will be second-guessed, coming this early in the season. Nonetheless, Adams completed only two of four passes for 14 yards.
Harris's first pass was a 39-yard completion to Eugene Lewis. However, the play was nullified by an offside penalty against receiver Hergy Mayala.
Haggerty added another punt single before Côté's 26-yard field goal at 11:13 gave the Als their first lead, 6-5.
Article content
Bethel-Thompson was sacked by Nick Usher and fumbled on the next series, the ball recovered by Almondo Sewell. But the visitors couldn't capitalize on the turnover.
Bede's 29-yard field goal at 14:45 restored Toronto's lead, and the margin was increased when Harris and Mayala got their signals crossed, resulting in a Tavarus McFadden interception that was returned 28 yards. Bede kicked a 38-yard field goal on the final play of the half for an 11-6 advantage.
Montreal was held to five first downs and 115 yards of offense in the half.
The Argos came out quickly following the intermission, going 72 yards in five plays, capped by Banks's touchdown at 2:35 for an 18-6 lead. Côté narrowed that deficit with an 18-yard field goal at 9:45 before Bede added a single off a wide 26-yard attempt.
Article content
Côté's 32-yard field goal early in the fourth quarter pulled the Als to within a converted touchdown — 19-12. Bede added another single when he missed from 45 yards before the Als finally found the end zone at 9:14 of the period following a seven-play, 70-yard drive. The two-point conversion failed.
The Als entertain Saskatchewan next Thursday night.
hzurkowsky@postmedia.com
Alouettes' Chandler Worthy hopes it's finally his time to shine

Alouettes linebacker Adarius Pickett 'just brings it': GM Maciocia

Canadian tailback Jeshrun Antwi has big cleats to fill in Alouettes' backfield