The city has set up a page on its website with information about the bill, and a link to a GoFundMe page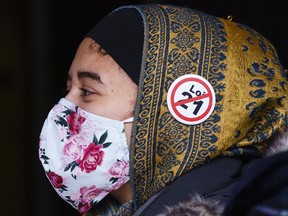 Article content
A group of Calgary councilors launched a fundraising effort on Thursday aimed at legally tackling Quebec's controversial bill that limits religious symbols in the workplace.
Article content
Thursday marked the third anniversary of the passing into law of Bill 21 in Quebec. It bars public servants including teachers and lawyers from wearing religious symbols such as turbans and hijabs at work.
Coun. Jasmine Mian said it has already resulted in people losing their jobs, and leaving that province to find other work.
"If someone had told me 10 years ago that such a law would exist in Canada I never would have believed it," said Mian. "After the reckonings we've had about equity, diversity and inclusion, it's deeply troubling to see laws like this persist in Canada."
A legal challenge has now been mounted against the law by the Canadian Civil Liberties Association, the National Council of Canadian Muslims and the World Sikh Organization.
Article content
In December, Calgary council voted against putting any taxpayer cash toward the legal challenges, as had been requested by some councillors, however council voted 10-5 to endorse the court fight and set up a task force of three councillors to consult with local religious groups .
As a result of work done by the task force, the city has set up a page on its website with information about the bill and a link to a GoFundMe page raising money for the legal battle.
Tejinder Singh Sidhu, president of the World Sikh Organization of Canada, was on hand for the fundraising launch.
"When our community first heard of this bill, our parents and grandparents started to recall the trauma they faced when they first arrived in Canada," he said. "How many of our fathers and brothers were told to cut their hair and (remove) their turbans to gain employment?"
Sidhu asked Calgarians to donate what they can to help fight laws that create a space for intolerance.
Ward 5 Coun. Raj Dhaliwal said the bill disproportionately affects visible minorities.
"That's not Canada for me," he said. "The Canada I came to 25 years ago was a Canada that welcomed people from all walks of life. It doesn't matter what you wear on your head, what mattered was what was in your head."
The GoFundMe Page has a goal of $100,000. As of Thursday afternoon it had raised $5,000. For more information visit calgary.ca/bill21.
brthomas@postmedia.com
Twitter: @brodie_thomas