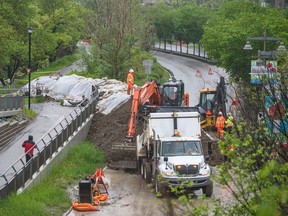 Article content
City officials say they're keeping flood mitigation measures in place in anticipation of another storm system which could strike Calgary next week.
Article content
Calgary water services director Francois Bouchart said forecasts show 50 to 100 mm of rain falling Monday and continuing through Tuesday, causing water levels in rivers to peak the day after rain ends.
Uncertainty of early forecasts and models means the storm could miss Calgary entirely, Bouchart acknowledged, but he said it would represent a flood risk if it does materialize.
"If we were to get an event of 70 mm of rain, that would yield flows that would put areas of Bowness and areas of Sunnyside at risk, just like our forecast earlier this week had indicated," he said.
"I do want to stress that the risk is there, and therefore we're taking every precaution possible to ensure we remain prepared and responsive."

Calgary Mayor Jyoti Gondek said the city is maintaining its state of local emergency, declared Monday. That declaration gives the city some additional powers to respond to flood risk, including by allowing officials to go door-to-door to inform Calgarians of evacuation orders and giving water crews access to property to protect critical infrastructure. It will remain for two weeks unless rescinded earlier.
Article content
Flood mitigation infrastructure put in place during this week's downfall will remain in place, including the temporary berm constructed across Memorial Drive, closing the major roadway between 10th Street NW and Edmonton Trail NE
The city will create an opening in that berm to reopen traffic on Memorial Drive, however, with one lane of traffic in each direction slated to open Friday morning. Calgary Emergency Management Agency chief Sue Henry said the decision was made to improve access to the area to community members and emergency vehicles, but it wasn't immediately clear whether through traffic would be allowed on the road.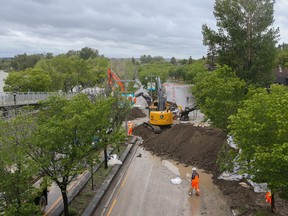 "(The berm) was intended to protect the residents and the neighboring communities on the Bow… We understand that the berm is creating some traffic flow issues," Gondek said. "We will be creating a couple of lanes of traffic, temporarily creating a division in the berm. That is something that can be quite easily put back together if there's a flood mitigation that's needed."
Article content
The temporary clay berm, which runs 88 meters near 3rd Street NW and connects to an existing flood barrier, cost about $115,000 to construct, but Gondek said it is protecting about $53 million in property. City officials were unable to provide an estimate on the costs of maintaining or removing the berm.
One factor which helped Calgary dodge flooding earlier this week was precipitation falling as snow in the Rockies, preventing it from immediately flowing downstream to the city.
But that snowfall and the aftermath of the recent deluge has put Calgary at elevated flood risk from upcoming storms, Bouchart said.
"We do know that this basin is now primed for high flows," he said. "The rain on snow will augment the rainfall that we see falling within the basin, and that's why we're taking every precaution possible."
The city also reopened three city parks that were closed Tuesday due to flood risk: Prince's Island Park, St. Patrick's Island and Bowness Park. Rideau Park remains closed.
jherring@postmedia.com
Twitter: @jasonfherring