Measures include more money for low-income workers, seniors, parents and renters struggling with housing costs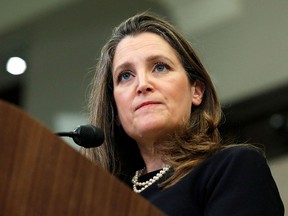 Article content
Deputy Prime Minister Chrystia Freeland outlined the federal government's $8.9-billion "Affordability Plan" aimed at helping Canadians shoulder the rising costs of living as inflation reaches multi-decade highs.
Article content
"Because of investments we have already made in the last two federal budgets, a new set of measures is coming into force right now to help the Canadians who need it most," Freeland said during a keynote speech before the Empire Club of Canada on June 16. "This is $8.9 billion in new support for Canadians this year. This is our Affordability Plan."
The Affordability Plan will include $1.7 billion in new support for workers with enhancements to the Canada Workers Benefit to give $2,400 to low-income workers starting this year; a 10 per cent increase to Old Age Security for seniors over 75 expected to give the country's three million seniors $766 or more; a one-time $500 payment to one million Canadian renters struggling with housing costs; cutting child-care fees by an average of 50 per cent; a dental care plan for Canadians earning less than $90,000 starting with children under 12; as well as inflation-indexed benefits such as the Canada Child Benefit, the GST Credit, the Canada Pension Plan, Old Age Security, and the Guaranteed Income Supplement. Freeland added that the $15-an-hour federal minimum wage will also be indexed to inflation.
Article content
Freeland acknowledged the new supports may rub some hawkish economists the wrong way.
"But for the prosecutor hawks among you, fear not," Freeland said in her speech. "This is new money for the Canadians receiving it this year — but we built these measures into our last two budgets."
The affordability plan was one portion of the five-part strategy to help the economy recover from the COVID-19 recession Freeland laid out during her keynote speech on the economy. The other parts of the plan included focusing on the role of the Bank of Canada, fiscal restraint, addressing the worker shortage and creating good jobs.
Freeland emphasized the role the country's central bank plays in targeting inflation through its mandate, adding that it will need the help of government policy to tackle supply constraints. She also shot back at criticisms towards the central bank that have cropped up from opposition parties in recent months.
Article content
"At this time of global economic and political volatility, undermining Canada's fundamental institutions — very much including the Bank of Canada — is highly irresponsible, not to mention economically illiterate," Freeland said.
The deputy prime minister later pivoted to fiscal restraint, noting the federal government spent an "extraordinary amount of money" to see the country through the pandemic. Freeland pointed to Canada's lowest debt-to-GDP ratio among its G7 peers, and added that the Bank of Canada and the government are both working to withdraw monetary and fiscal stimulus.
"I am determined to see our debt-to-GDP ratio continue to decline and our deficits continue to be reduced," Freeland said. "Our pandemic debt must — and will — be paid down. In tabling the budget in April, I reaffirmed this as our fiscal anchor, and I committed to a review and a reduction of government spending, because that is the responsible thing to do."
Article content
A lot must go right to achieve soft economic landing, David Dodge says

Fed, Bank of Canada will 'do whatever it takes' to curb inflation: Benjamin Tal

Canadian homeowners feeling the pinch of rising rates: Manulife Bank debt survey
The April 7 budget revealed less spending than expected at $452 billion following the massive pandemic response over the past few years. Fiscal balance sheets are steadily improving, even leading the government to forego revenue-producing strategies like its ultra-long bond issuance, which was canceled last week.
Freeland also emphasized the importance of addressing the worker shortage through the government's plan to invest in immigration, skills and training, affordable child care to help women participate in the workforce, as well as affordable housing. The federal government's plan also includes ensuring there are enough good jobs for middle-class Canadian families.
Article content
Randall Bartlett, the senior director of the Canadian Economics team at Desjardins Group, saw these new measures as a positive response for Canadian households struggling with inflation.
"I think first and foremost, that's number one: recognizing that it's an issue and making sure that they demonstrate to Canadians that they're taking it seriously and doing something about it," Bartlett said, adding that his second-biggest takeaway was recognizing the independence of the Bank of Canada.
"I think in the context of the high inflation that we're seeing right now, providing that sort of targeted support as a bit of a bridge for lower income households to shore up their finances to some extent throughout this period of high inflation and rising interest rates is going to be a welcome development for a lot of those households," Bartlett continued. "We're seeing the real incomes and the relatively modest savings being eroded by inflation on a regular basis."
Article content
Bartlett also pointed to Canada's AAA rating as an important highlight in the speech.
As the country stars down a new wave of global challenges, former Bank of Canada governor David Dodge noted this week that achieving a soft landing with the least amount of pain to the Canadian economy will be a challenge policymakers must navigate. In Thursday's remarks, Freeland echoed these sentiments, acknowledging that a soft landing is not guaranteed.
"We have been through two years of remarkable turbulence," said Freeland. "Our challenge now is to land the plane. A soft landing is not guaranteed. But, fortunately for us, there is no country in the world better placed than Canada to achieve one."
• Email: shughes@postmedia.com | Twitter: stephhughes95