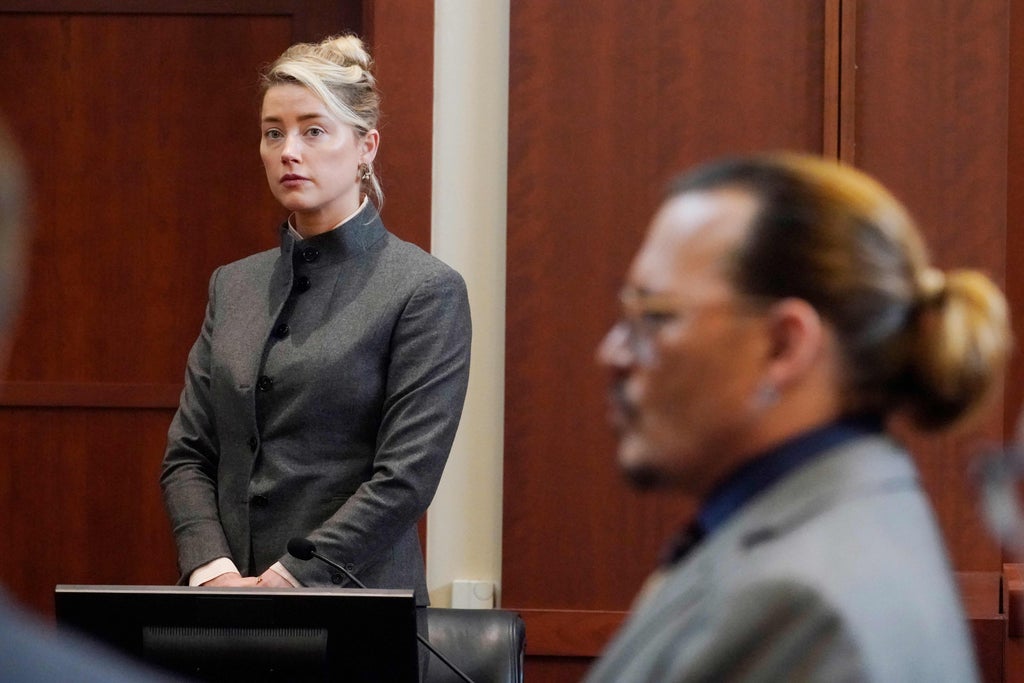 Amber Heard has denied lying about making $7m in donations to two charities from her divorce payout from Johnny Depp, despite damning video evidence played in court in the former couple's high-stakes defamation trial.
The Aquaman actress was subjected to an intense grilling under cross-examination from Mr Depp's attorney on Monday afternoon where she claimed that she had been unable to complete the payments because of the costs from her ex-husband suing her.
"I still fully intend on honoring all of my pledges," she testified.
"I would love him to stop suing me so I can."
When the couple's $7m divorce settlement was reached in August 2016, Ms Heard pledged to split the entire payout equally between the ACLU and the Children's Hospital of Los Angeles.
Terence Dougherty, the chief operating officer and general counsel of the ACLU, testified earlier at the trial that the charity had so far received less than half of the $3.5m promised.
Mr Dougherty said that $350,000 was paid directly by Ms Heard, $100,000 was paid through Mr Depp, $500,000 was paid through a donor-advised fund, and that $350,000 was also paid via a donor-advised fund – for a total donation of $1.3m.
When Ms Heard said that she had been unable to fulfill her commitment to make the donations because her ex-husband was suing her during Monday's testimony, Mr Depp's attorney pushed back that 13 months passed between her receiving the full divorce settlement and the lawsuit being filed .
The court was shown a clip from Ms Heard's appearance on Danish TV show RTL Late Night in October 2018, where she said that ""$7m was donated in total".
"I split the amount between the ACLU and CHLA. ACLU is a prominent non-profit organization in the US and they work on behalf of marginalized communities on the ground, and in legislative reform," she said on the show,
"I wanted nothing."
The final payment of $2.3m was paid on 1 February 201, the court heard.
Ms Heard claimed that she uses the terms "pledged" and "donated" interchangeably.
Mr Depp is suing his ex-wife for defamation over a 2018 op-ed she penned for Washington Post where she described herself as a "a public figure representing domestic abuse".
the Pirates of the Caribbean actor is not named in the article, which is titled "I spoke up against sexual violence – and faced our culture's wrath. That has to change".
However Mr Depp claims that it falsely implies that he is a domestic abuser – something that he strongly denies – and that it has left him struggling to land roles in Hollywood. He is suing for $50m.
Ms Heard is countersuing for $100m, accusing Mr Depp of orchestrating a "smear campaign" against her and describing his lawsuit as a continuation of "abuse and harassment".
The trial began on 11 April in Fairfax, Virginia, with explosive testimony playing out inside the courtroom.